Union Square
Union Square (Broadway & 14th St.), New York, 10003
Web
www.nycgovparks.org
Subway
4, 5, 6, L, N, Q, R
, W (14th St. - Union Square)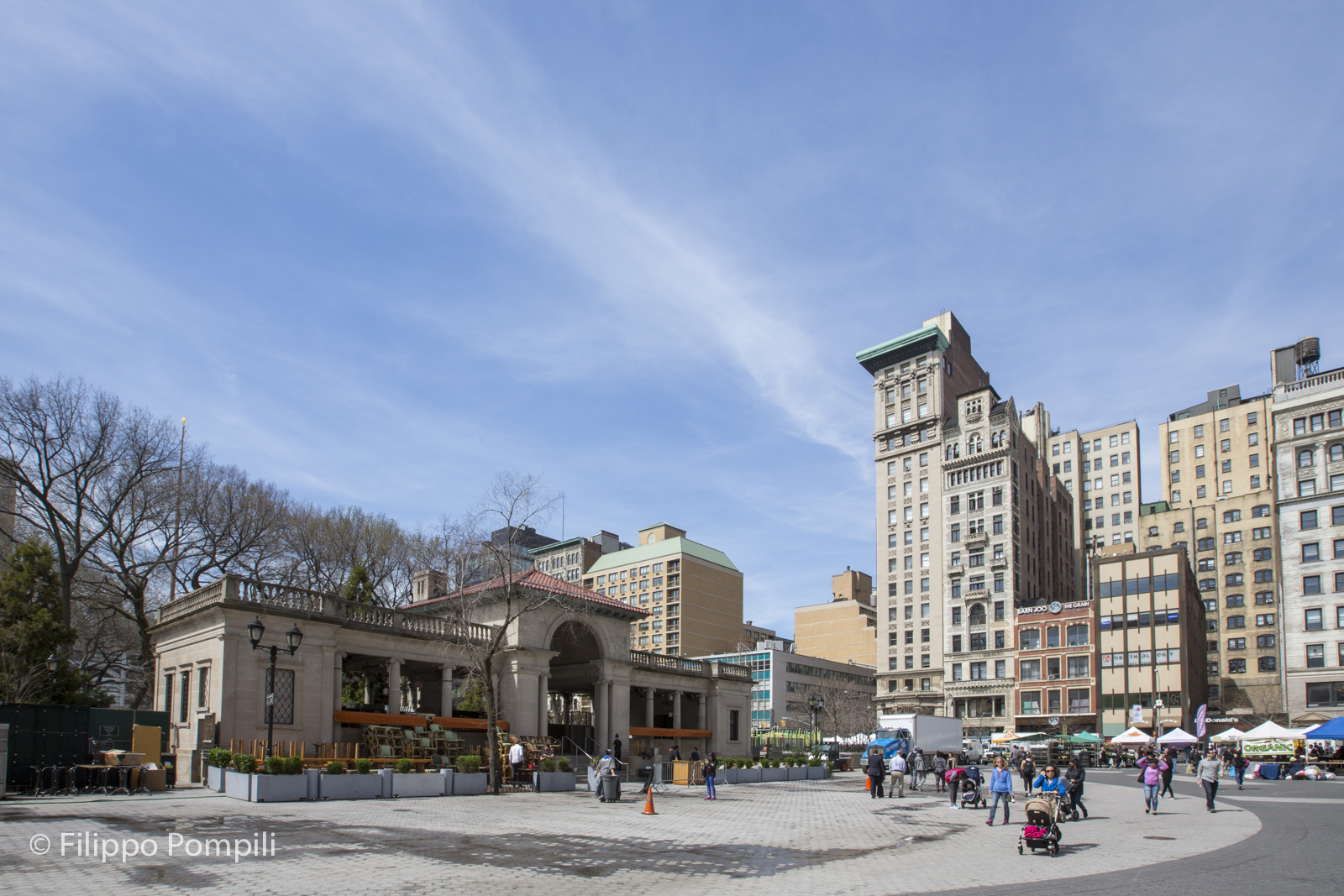 In 1808, during the design of the New York road network, a square was planned in this area, which was called
Union Place
because it was the confluence of various roads. Later, in 1832, it was renamed Union Square and a few years later a public park was opened in the middle of the square. At the beginning of the 1840s, it was one of the first areas to be lit by gas lamps. In the 1850s there were forty hotels in the area but ten years later began a transformation that converted it into a commercial area with the opening of the department store A. T. Stewart, housed in a large cast iron building on the corner of Broadway and 10th St. Later Tiffany's also opened and in early 1870 the park was redesigned by Frederick Law Olmsted and Calvert Vaux, the designers of
Central Park
. The area became so fashionable that the stretch of Broadway between Union Sq. and Madison Sq. was called
The Ladies' Mile
. The area continued to change, at the end of the 1800's various manufacturing companies settled there and at the beginning of the 1900's cheap bookshops and clothing stores spread. It was also a meeting place for protest demonstrations, in particular from various trade unions. In the 1970s the area was neglected and this led to an inevitable decline. Fortunately, in the following years a recovery was planned and many buildings were declared of historical interest.
On the square there are statues of George Washington, Marquis de Lafayette, Abraham Lincoln and Mahatma Gandhi.
From an architectural point of view, today the square is the area where it takes up the verticalism typical of
Downtown
and interrupted by the old neighborhoods of
Chinatown
,
Little Italy
,
SoHo
,
TriBeCa
and
Greenwich Village
.
Here every Monday, Wednesday, Friday and Saturday from 8:00am to 6:00pm, there is an outdoor food market, the
Union Square Greenmarket
.
References
Kenneth T. Jackson, Lisa Keller, Nancy Flood
.
The Encyclopedia of New York City: Second Edition
. Yale University Press, 2010. pp. 1345-1347
Henry Moscow
.
The Street Book: An Encyclopedia of Manhattan's Street Names and Their Origins
. Fordham University Press, 1990. p. 102
Union Square, Manhattan
(Wikipedia)
Union Square Park
(New York City Department of Parks & Recreation)
Useful links
Union Square Greenmarket
(New York City Department of Parks & Recreation)