SoHo
This is the area between Houston St., Crosby St., Canal St. and Sixth Avenue.
Subway
B,
D, F
, M (Broadway/Lafayette St.);
6
(Bleecker St.);
R
, W (Prince St.);
A, C, E
(Canal St.);
C, E
; (Spring St.)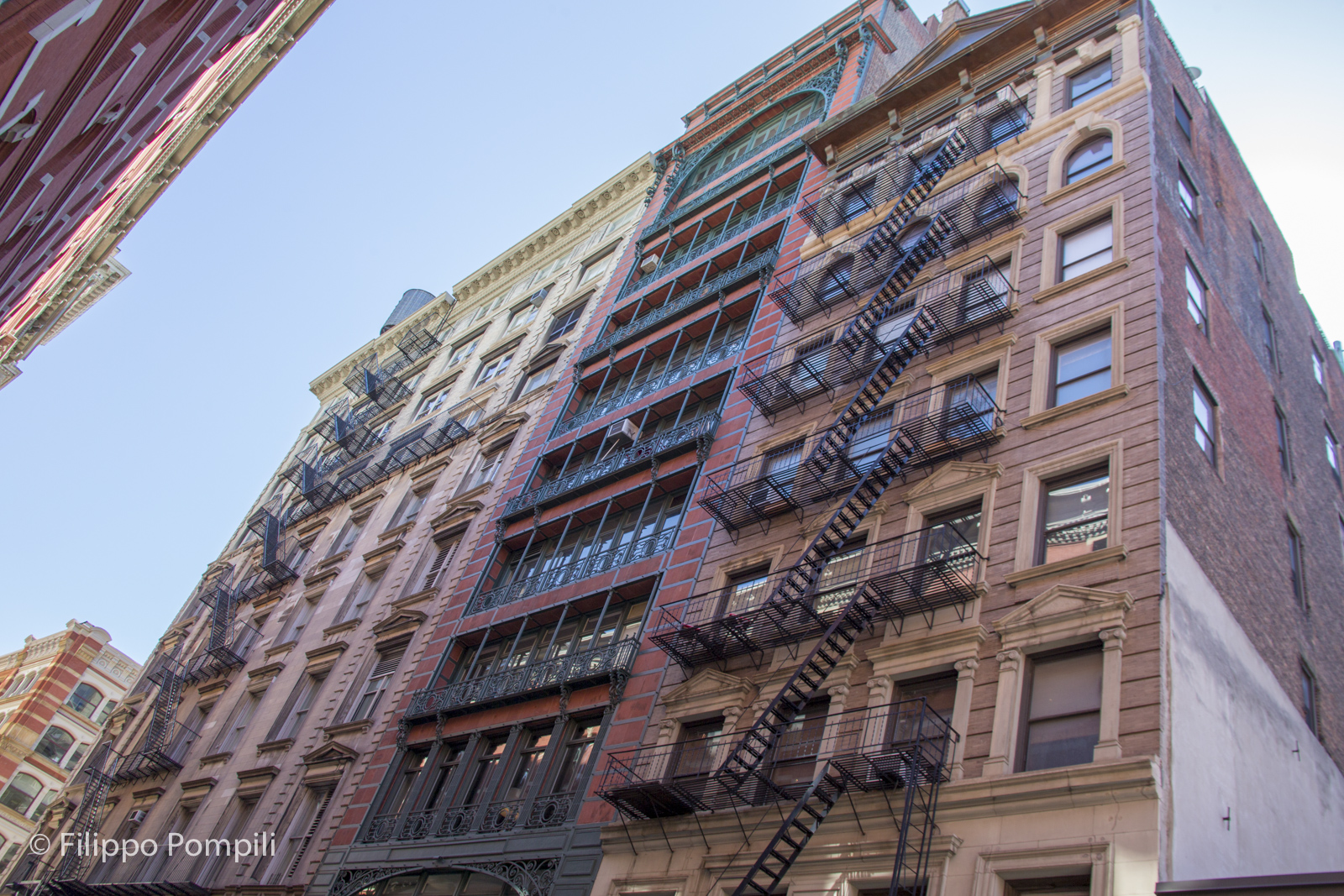 The word SoHo stands for South of Houston Street, which means the area south of Houston Street. It was once a hilly area, but this land was used to fill the canal that ran along the current Canal St. creating a flat landscape that was exploited until the end of the eighteenth century for crops and later for urban development. In 1825 it was the most densely populated area of Manhattan. Towards the middle of the 19th century large wholesale companies such as Lord and Taylor, Tiffany and E. V. Haughwout moved to this area, as well as luxury hotels, theatres and casinos. Many of the buildings were built with a cast iron structure, which is why SoHo is also called the cast iron district. These types of buildings were the forerunners of modern skyscrapers.
At the end of the 1800's commercial activities moved northwards and the area experienced a progressive decline. In the 1960s and 1970s many artists were attracted to cheap rentals and the neighborhood began to be populated by studios and art galleries. In the 1970s and 1980s, fashionable boutiques, shops, bars and restaurants were added.
The cheap rentals are now just a memory and the neighborhood has a refined air and and a little snobbish air. There are numerous art galleries, a branch of the prestigious Guggeheim Museum and the New Museum of Contemporary Art (right on the border with the East Village). A large group of clubs and restaurants are particularly crowded in the area around West Broadway. A characteristic are the lofts, dwellings in old restored warehouses, consisting of a large room with large windows and brick walls.
References
Kenneth T. Jackson, Lisa Keller, Nancy Flood
.
The Encyclopedia of New York City: Second Edition
. Yale University Press, 2010. pp. 1202-1203
Gerard R. Wolfe
.
New York, a Guide to the Metropolis: Walking Tours of Architecture and History
. McGraw-Hill, 1994, 2° ed. pp. 173-178
SoHo, Manhattan
(Wikipedia)