Woolworth Building
233 Broadway (Park Pl. & Barclay St.), NY 10007
Web
woolworthtours.com
Contacts
203 966-9663
Visit Time
30 – 90 minutes
Accessibility
Wheelchair access is available in the lobby and with lift access to the other tour areas.
Subway
4, 5, 6
(Brooklyn Bridge-City Hall);
J
, Z (Chamber St.);
R
, W (City Hall);
2, 3
(Park Place)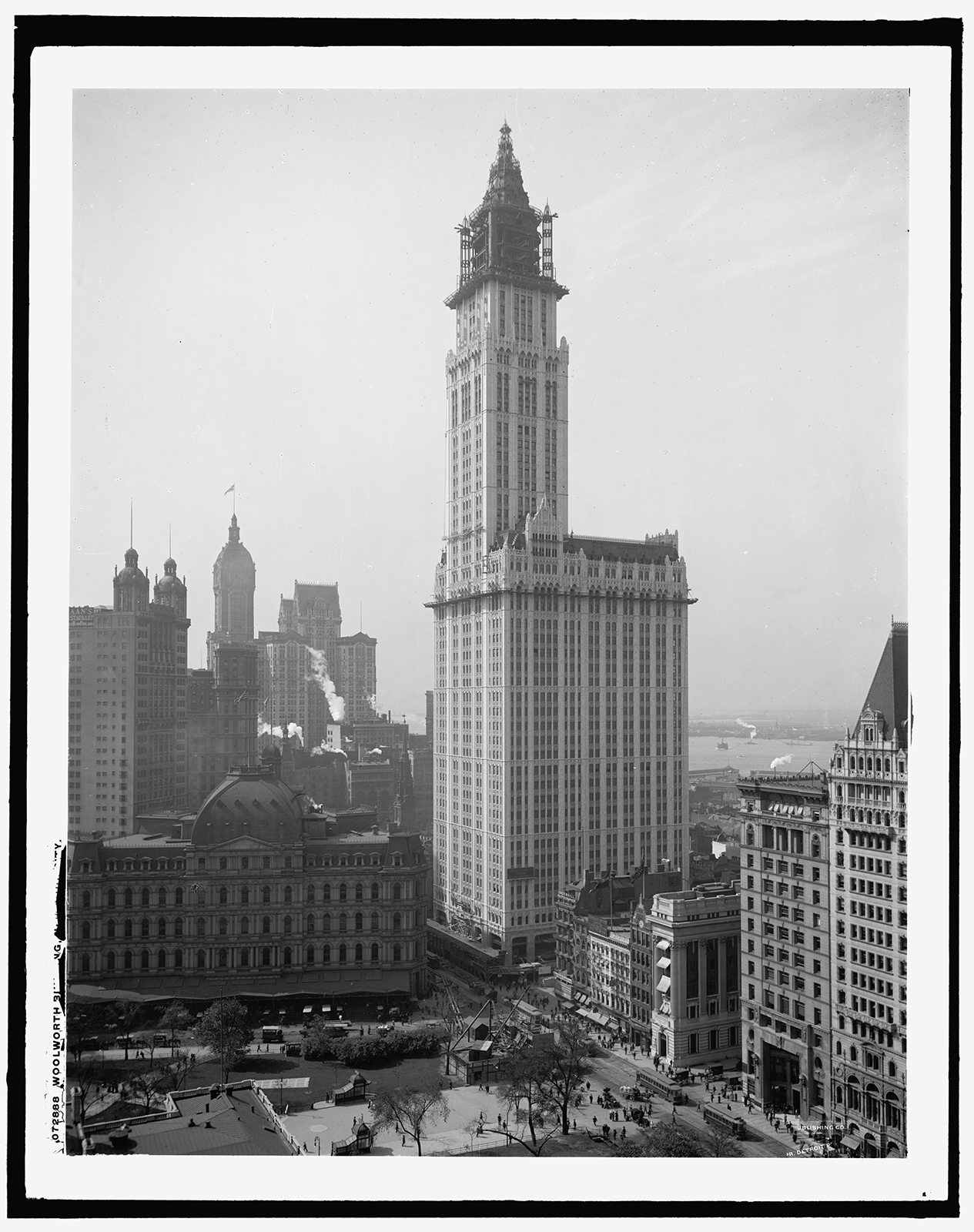 Built in 1913 on the design of the architect Cass Gilbert, it was called the "Cathedral of Commerce" by a famous priest of New York, the Reverend S. Parkes Cadman. In fact, Gilbert used the Gothic Revival style in his project, the same as for some of the most important churches in the city, such as
St. Patrick's Cathedral
. Standing tall 241 meters high and 55 floors, the Woolworth Building became the tallest building in the world, largely surpassing the
Metropolitan Life Tower
and remained so until 1929 when it was defeated by the
Chrysler Building
. At the opening ceremony on April 24, 1913, the tower was adorned with 80,000 light bulbs that lit when then U.S. President Thomas Woodrow Wilson turned them on at the press of a button from Washington, D.C. The interior follows the Gothic Revival style with the atrium decorated with a mosaic and marble ceiling on the walls. The twelve small sculptures in the atrium are caricatures of some of the people involved in the construction of the skyscraper. First of these was Mr. Woolworth, the owner who paid the sum of $ 13,500,000, who was depicted counting his cents because he owned a large chain of shops that sold everything at 5 or 10 cents. Then the designer Cass Gilbert while holding a model of the building, the builder Louis Horowitz and others. Frank Woolworth's office is located on the 25th floor and has been transformed into a small private museum, generally closed to the public.
Originally, the building was energy self-sufficient with its own power plant, and there was also an air-conditioning system, a doctor's office, a barber shop, a restaurant and a swimming pool.
Currently it is a condominium of luxurious apartments.
The atrium and other rooms can only be visited by following a guided tour. It is no longer possible to access the tower.
References
Kenneth T. Jackson, Lisa Keller, Nancy Flood
.
The Encyclopedia of New York City: Second Edition
. Yale University Press, 2010. p. 1412
Gerard R. Wolfe
.
New York, a Guide to the Metropolis: Walking Tours of Architecture and History
. McGraw-Hill, 1994, 2° ed. pp. 78 - 79
Woolworth Building Lobby Tours
Woolworth Building
(Wikipedia)
Photo
Woolworth tower
(Library of Congress Prints and Photographs Division Washington, D.C. 20540 USA https://hdl.loc.gov/loc.pnp/pp.print)