Metropolitan Life Insurance Company Tower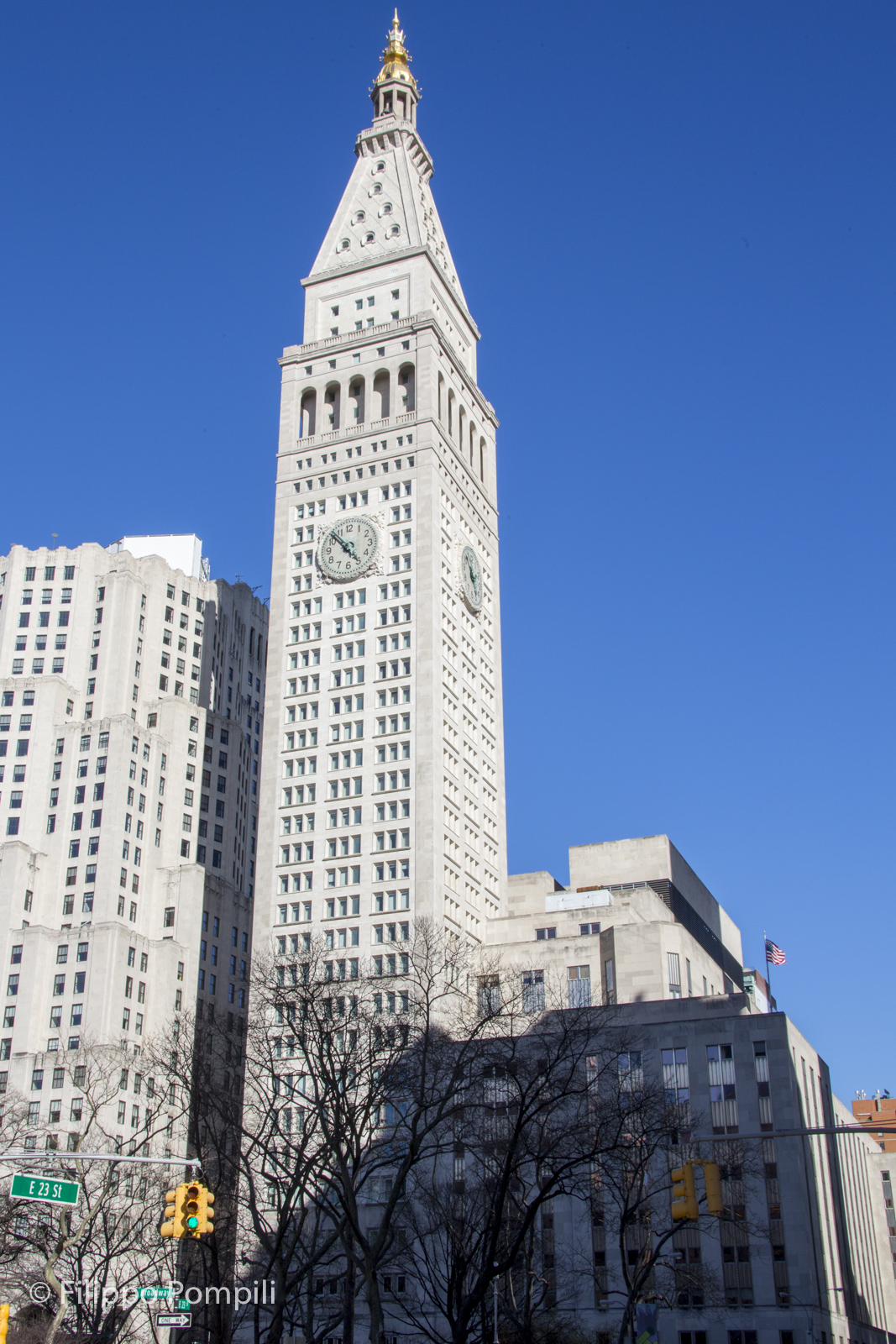 The Metropolitan Life Tower, designed by Napoleon LeBrun & Sons, was built in 1909 in Italian Renaissance style, inspired by the Campanile of St. Mark's Basilica in Venice. The tower was an addition to the 11-storey building that the insurance company owned, the "East Wing", which was built in 1893 to a design by the same firm of architects. The East Wing was replaced in 1957 by a building designed by D. Everett Waid.
With its 50 floors and 213 metres, it was the tallest building in the world from 1909 to 1913 when it was surpassed by the
Woolworth Building
. The four clocks on the facades have a diameter of about 8 meters, the numbers are 1.2 meters high and each of the minute hands weighs 454 kg. In 1964 the tower and East Wing were renovated, the Tuckahoe marble exterior was replaced with limestone and many of the Renaissance details were lost.
The tower has a night lighting system similar to that of the Empire State Building and generally the colors used are chosen to identify certain occurrences. For example, red, white and blue for the 4th of July, green for St. Patrick's Day and red lights at Christmas.
A curiosity links this tower to the bell tower of Venice. The current American tower is older than the Italian one because the St Mark's Campanile collapsed in 1902 and was completely rebuilt in 1912, three years after the construction of the Metropolitan Life Tower. So this is probably the only building in the United States to be older than the Italian structure that inspired it.
Today the structure houses the New York Edition Hotel, a luxury hotel of 273 rooms opened in 2015 with a Penthouse Suite from $ 10,000 per night.
References
Kenneth T. Jackson, Lisa Keller, Nancy Flood
.
The Encyclopedia of New York City: Second Edition
. Yale University Press, 2010. p. 833
Gerard R. Wolfe
.
New York, a Guide to the Metropolis: Walking Tours of Architecture and History
. McGraw-Hill, 1994, 2° ed. p. 266
Metropolitan Life Insurance Company Tower
(Wikipedia)
St Mark's Campanile
(Wikipedia)