Washington Square
Washington Square, New York, New York, 10012
Web
www.nycgovparks.org
Subway
R
, W (8th St./NYU);
6
(Astor Pl.);
A
, B,
C, D, E, F
, M (West 4 St - Washington Square)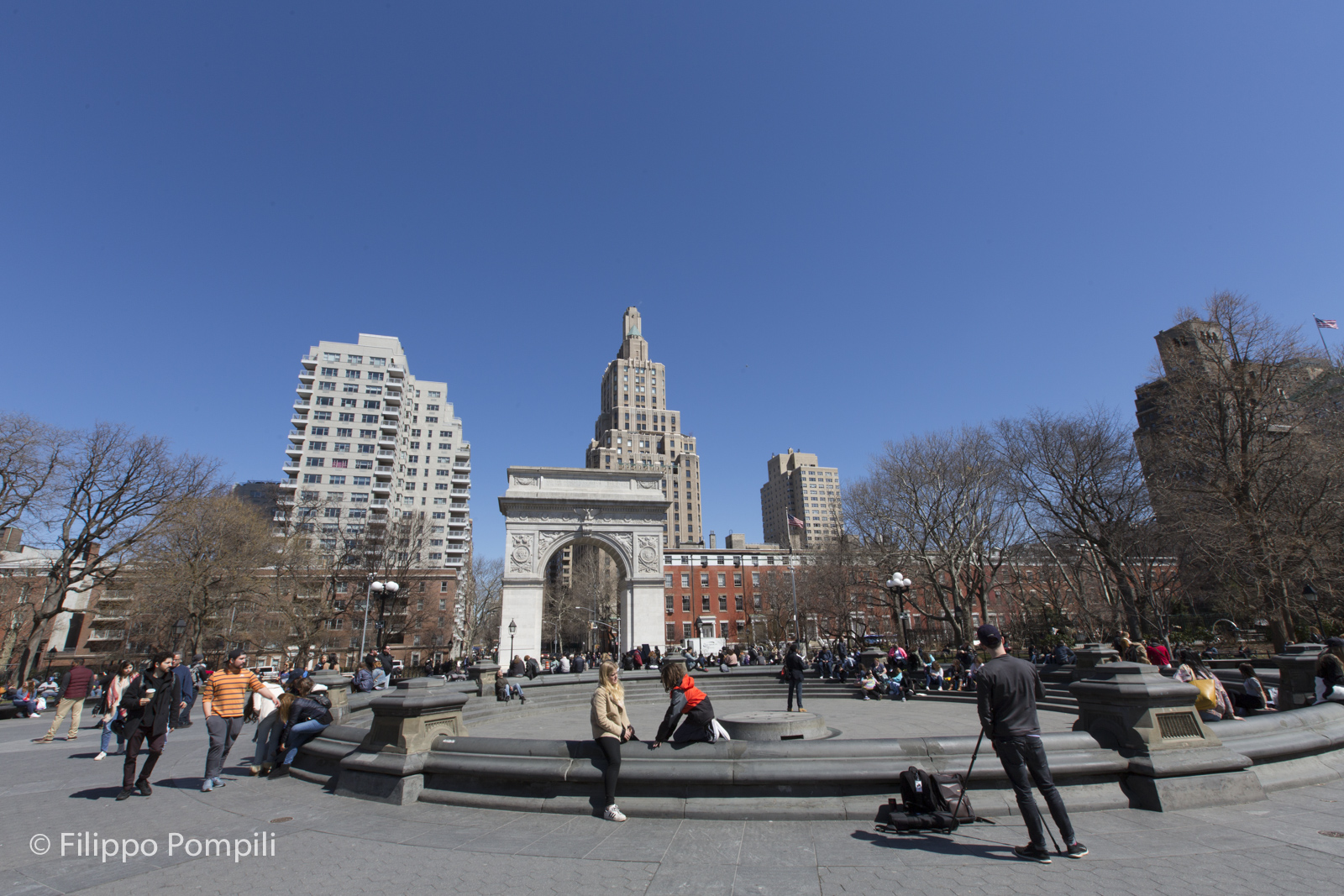 Originally this area was a swamp area crossed by the Minetta stream and during the period of colonization was one of the hunting grounds favored by settlers. In 1797 the City's Common Council bought the area east of the Minetta and used it as a cemetery, to perform public executions, and was also used for duels. In 1826 the city also bought the western part of the Minetta and the following year the area was transformed into a public park and in 1838 Samuel F.B. Morse made the first public demonstration of the operation of the telegraph. In 1870, after the creation of the City's Department of Public Parks, the square was redesigned and improved by the engineer M.A. Kellogg and the landscape architect I.A. Pilat, who followed the principles of Frederick Law Olmsted, one of the two landscape architects of
Central Park
.
In the northern part of the square there is the Washington Arch, a 23 meters high marble arch built between 1890 and 1892 designed by Stanford White, in honor of George Washington, first President of the United States, for the centenary of his election. This arch replaced an earlier one built in 1889 in wood.
Today, many of the buildings that overlook the square are part of New York University (NYU), which settled in this area in 1831 (the original name was University of the City of New York).
The square is crowded with a heterogeneous crowd. There are students who study or jog, street musicians, artists who improvise small shows, expert players who challenge others to a game of chess and tourists who take pictures.
References
Kenneth T. Jackson, Lisa Keller, Nancy Flood
.
The Encyclopedia of New York City: Second Edition
. Yale University Press, 2010. p. 1381
Gerard R. Wolfe
.
New York, a Guide to the Metropolis: Walking Tours of Architecture and History
. McGraw-Hill, 1994, 2° ed. p. 101
Henry Moscow
.
The Street Book: An Encyclopedia of Manhattan's Street Names and Their Origins
. Fordham University Press, 1990. p. 109
Washington Square Park
(Wikipedia)
Washington Square Park
(New York City Department of Parks & Recreation)