Dakota Apartments
1 W 72nd St, New York, NY 10023
Opening hours
Condominio privato non aperto al pubblico
Subway
B,
C
(72nd St.)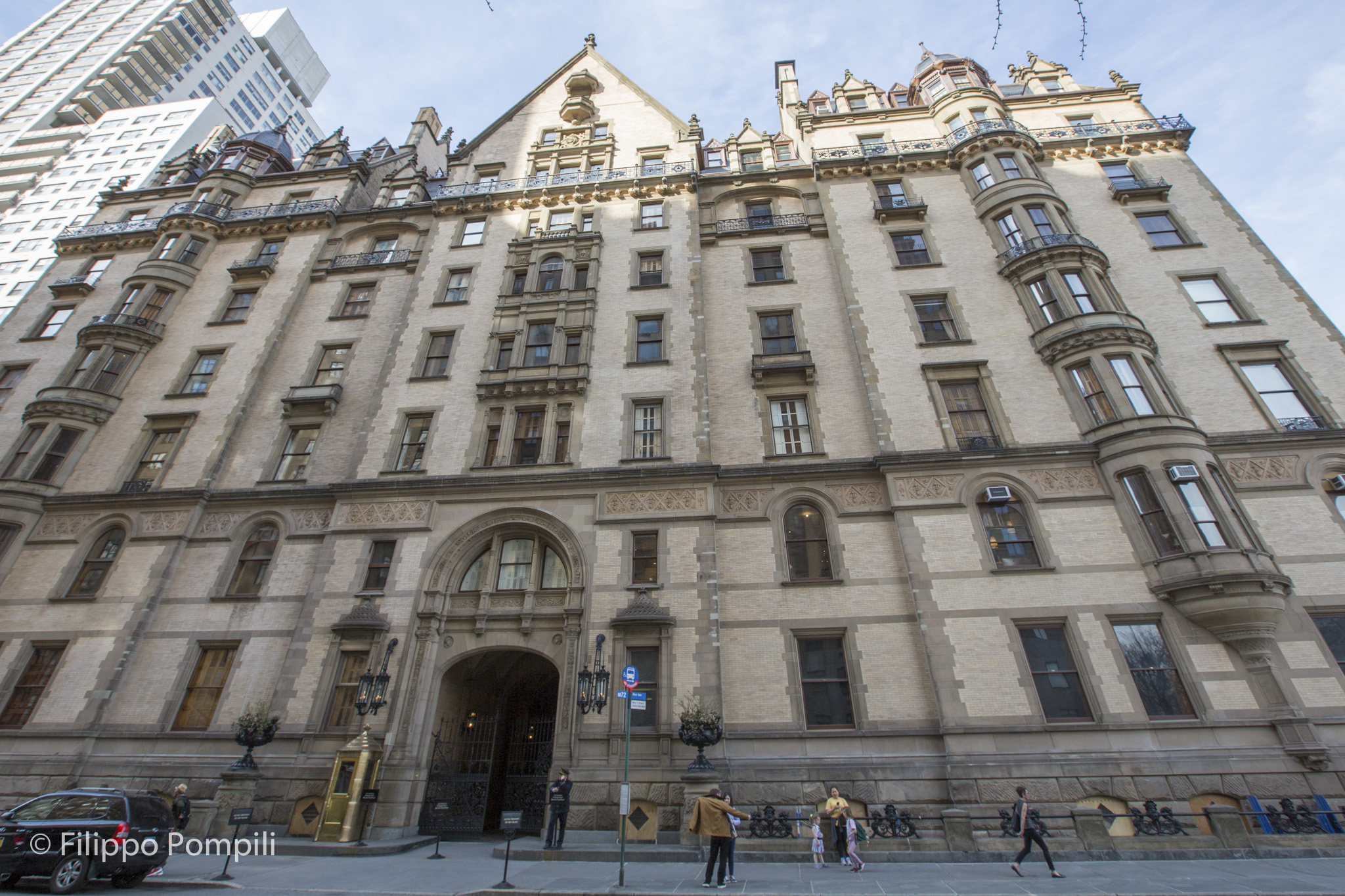 One of Manhattan's oldest and most exclusive residential buildings was designed in Germanic Renaissance style by architect Henry Janeway Hardenbergh, who also designed the Plaza Hotel, commissioned by Edward S. Clark, founder of the Singer Sewing Machine Company.
When it was built, between 1880 and 1884, it was in an isolated position, and at that time creating a luxurious condominium was an innovative idea because these structures were used only for the poor classes while the rich had single-family villas.
The origin of the name is unclear and according to a popular legend it refers to the fact of being in a remote place such as the Dakota Territory. A more plausible thesis is that the name is linked to Edward S. Clark's passion for the names of the states of the west of the United States and this thesis could be confirmed by the frieze placed at the center of the tympanum in the elevation overlooking 72nd St., which depicts the face of a native Dakota.
The building has a quadrangular plan, is ten storeys high and is characterized by pronounced spire roofs. A special feature of the building is that it does not have a fire escape staircase, which was rare at the time, because the designer created fireproof and sound-absorbing layered floors.
It was also one of the first buildings to be equipped with lifts and electricity guaranteed by a special generator.
Among the famous residents was John Lennon and his wife Yoko Ono, and right in front of the entrance to 72nd St. on December 8, 1980 Lennon was killed by a lunatic. Since then, Yoko Ono, who still resides in the condominium, celebrates each year the anniversary of his death Lennon with a public pilgrimage that starts in Dakota and ends at the nearby
Strawberry Fields Memorial
in Central Park, created in memory of the singer.
Among the past and present famous residents are Lauren Bacall, Theodore E. Steinway, Leonard Bernstein, Rosemary Clooney, Judy Garland, Rudolf Nureyev, Patrick O'Neal, Gilda Radner, Liza Minnelli and Mia Farrow.
To buy an apartment it is not enough to have a considerable amount of money but it is also necessary to have the approval of the Board of Management of the condominium. These organs are widespread in all the condos of a certain level and that of the Dakota has vetoed distinguished applicants such as Billy Joel, Gene Simmons of Kiss, Cher, Madonna, Carly Simon, Antonio Banderas and Melanie Griffith.
The exterior of the building was used in 1968 to shoot scenes from Roman Polanski's film, Rosemary's Baby.
References
Kenneth T. Jackson, Lisa Keller, Nancy Flood
.
The Encyclopedia of New York City: Second Edition
. Yale University Press, 2010. p. 342
Francis Morrone
.
The Architectural Guidebook to New York City
. Gibbs Smith, 2002. pp. 282-283
Gerard R. Wolfe
.
New York, a Guide to the Metropolis: Walking Tours of Architecture and History
. McGraw-Hill, 1994, 2° ed. pp. 371-373
The Dakota: New York's First Luxury Apartment Building
(Observer)
The Dakota
(Wikipedia)
Useful links
Inside New York's Most Famous Apartment Building
(Architectural Digest magazine)