Waldorf Astoria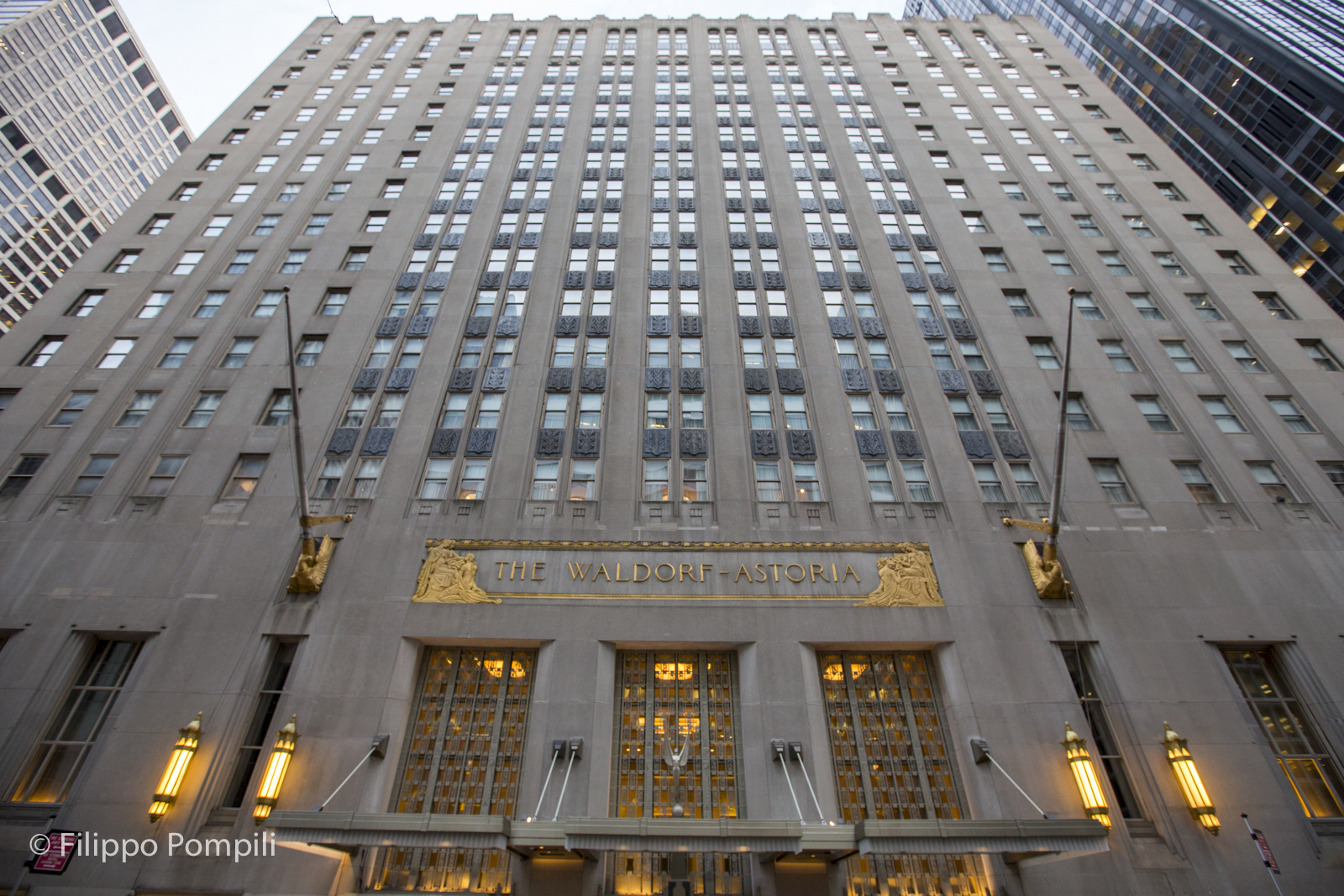 The Waldorf Astoria originates in the late 1800s from the union of two hotels, the Waldorf Hotel owned by William Waldorf Astor opened in 1893 on the corner of Fifth Ave. and 33rd St., on part of the land where now stands the Empire State Building and the other, the Astoria Hotel, owned by his cousin John Jacob Astor opened in 1897.
In 1931, the current Art Deco building on Park Avenue was built to a design by Schultze & Weaver. When it was opened with more than 1,300 rooms and 47 floors measuring 191 m, it was the largest and tallest hotel in the world. It had its own railway platform,
Track 61
, which was part of the subway network and connected to the Grand Central Terminal. It was used by, among others, President Franklin D. Roosevelt and General Douglas MacArthur.
In 1949 it was purchased by Conrad Hilton and in 2014 resold to Anbang, a Chinese insurance company for nearly $2 billion. In 2016 it was closed for a major renovation that will last five years and will turn it almost completely into a luxury apartment residence. When it reopens, the hotel will have only 300 to 400 rooms.
Many illustrious guests, first of all the Presidents of the United States visiting New York. Then there were Queen Elizabeth II and Philip of Edinburgh, the Duke and Duchess of Windsor, Prince Rainier III of Monaco and Princess Grace Kelly, Charlie Chaplin, Ava Gardner, Liv Ullmann, Gregory Peck, John Wayne, Katharine Hepburn, Spencer Tracy, Muhammad Ali, Burt Reynolds, Robert Montgomery and many others.
Movies shot at the hotel include Week-End at the Waldorf (1945), The Out-of-Towners (1970), Broadway Danny Rose (1984), Coming to America (1988), Scent of a Woman (1992), Random Hearts (1999), Analyze This (1999), Serendipity (2001), The Royal Tenenbaums (2001), Maid in Manhattan (2002), Two Weeks Notice (2002), End of the Century (2003), Mr. and Mrs. Smith (2005), The Pink Panther (2006) e The Hoax (2006). Television series include Law and Order, Rescue Me, Sex and the City, The Sopranos and Will and Grace.
References
Kenneth T. Jackson, Lisa Keller, Nancy Flood
.
The Encyclopedia of New York City: Second Edition
. Yale University Press, 2010. p. 1373
Francis Morrone
.
The Architectural Guidebook to New York City
. Gibbs Smith, 2002. pp. 159-160
Waldorf Astoria New York
(Wikipedia)
Useful links
The Waldorf Astoria Hotel As You Know It Is Over
(HuffPost Life)