United Nations
405 E 42nd St., (46th St & 1st Ave), New York, NY 10017
Web
visit.un.org
Contacts
+1 (212) 963-4475
Opening hours
9:00am-4.45pm (Daily).
Accessibility
Wheelchair accessible.
Subway
4, 5, 6, 7, S
(Grand Central/42nd St.)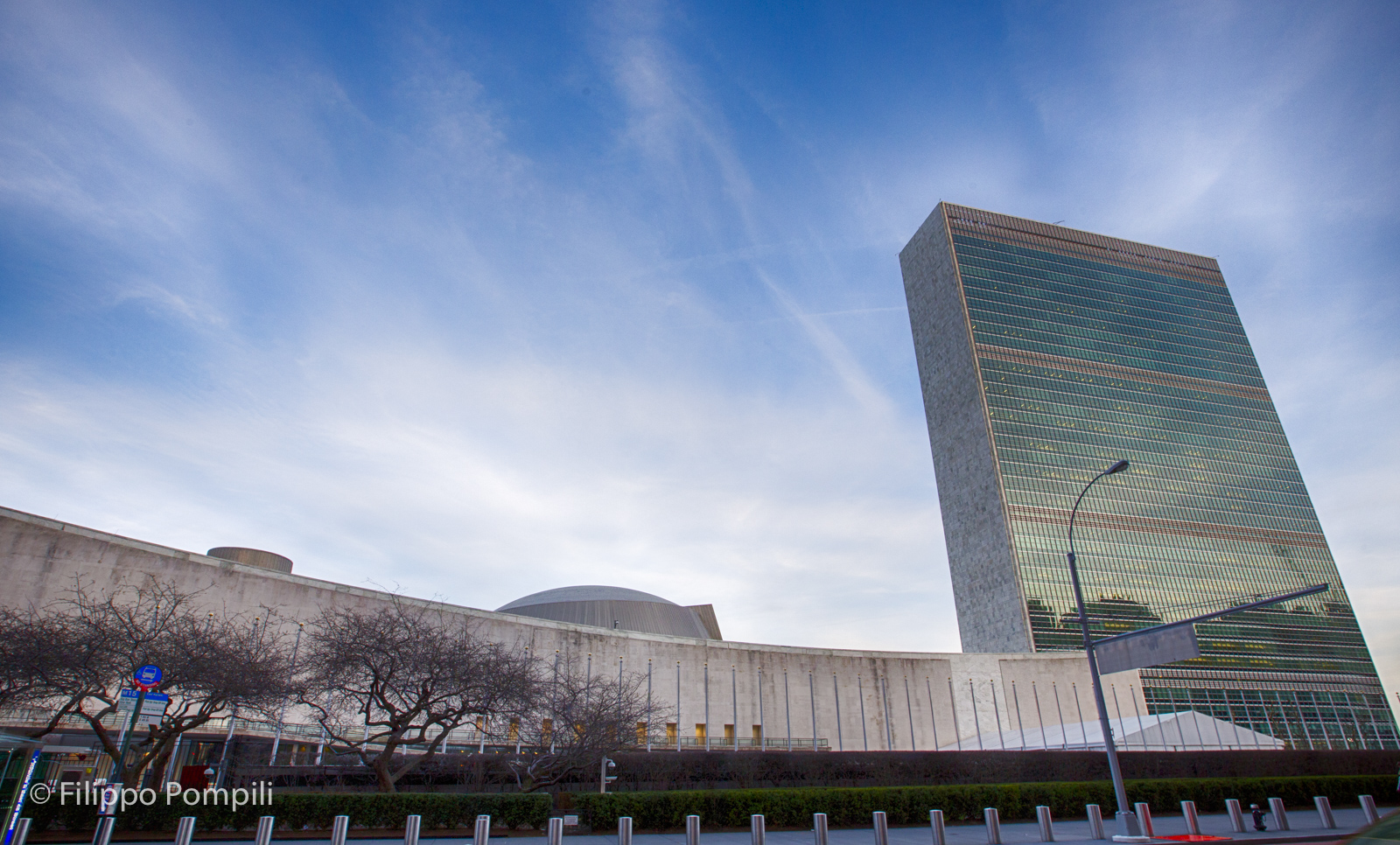 The city of New York was chosen as the headquarters of the United Nations after a competition with three other cities, Philadelphia, Boston and San Francisco. The designated area was Turtle Bay (Manhattan) on seven hectares of land donated by John D. Rockefeller Jr. The buildings were designed by a group of ten architects supervised by Wallace K. Harrison. The members were Nikolai G. Bassov (Soviet Union), Gaston Brunfaut (Belgium), Ernest Cormier (Canada), Charles-Edouard Jeanneret, known as Le Corbusier (France), Liang Seu-Cheng (China), Sven Markelius (Sweden), Oscar Niemeyer (Brazil), Sir Howard Robertson (United Kingdom), G. A. Soilleux (Australia) and Julio Vilamajo (Uruguay).
The complex consists of four main buildings.
The
General Assembly Building
, a rectangular building of 115 meters by 49 meters with two side walls whose upper part has a concave shape and the roof is partially surmounted by a dome. Inside, the General Assembly hall is 50 meters wide by 35 meters and 23 meters high and has 1,898 seats for delegations. The first meeting was held on October 14, 1952 and was attended by representatives of 159 countries.
The
Secretariat Building
is housed in the highest structure, a 168 meters high, 39-storey skyscraper built in 1950. The two large facades are made of glass and aluminum, while the two narrow side walls are covered with 2,000 tons of Vermont marble.
The
Conference Building
connects the General Assembly and the Secretariat buildings, is 122 meters long and houses three Council Chambers, the
Security Council
, the
Trusteeship Council
and the
Economic and Social Council
.
At the southwest corner of the park, connected to the Secretariat building, is the
Library
named after
Dag Hammarskjöld
, Secretary General of the United Nations, who died in an air accident with another 15 people during a peace mission in Africa in 1961. It was designed by the architects Harrison, Abramovitz, Harris and preserves about 400,000 volumes in its general collection as well as several million United Nations documents. Its map section contains more than 80,000 maps and 1,500 atlases. Finally, the periodic library offers over 10,000 official government publications and 4,000 unofficial periodicals.
The territory on which it is built enjoys the right of extraterritoriality, has its own police and international staff coordinated by the Secretary-General of the Organization.
However, the United Nations is bound by an agreement with the United States, the host country, which prevents the Organization from using its headquarters as a refuge for people who seek to prevent it from being arrested under federal, state or local laws of the United States.
The organization is made up of 193 member states, 4,900 people work there, there are about 2,000 accredited journalists and the headquarters is visited on average by one million visitors a year. There are six official languages, Arabic, Chinese, English, French, Russian and Spanish.
References
Kenneth T. Jackson, Lisa Keller, Nancy Flood
.
The Encyclopedia of New York City: Second Edition
. Yale University Press, 2010. pp. 1349-1350
Gerard R. Wolfe
.
New York, a Guide to the Metropolis: Walking Tours of Architecture and History
. McGraw-Hill, 1994, 2° ed. pp. 336-337
Francis Morrone
.
The Architectural Guidebook to New York City
. Gibbs Smith, 2002. pp. 186-187
History of UN Headquarters
(United Nations)
Headquarters of the United Nations
(Wikipedia)