Times Square
Intersection between Broadway and 7th Avenue and extends between 42nd St. and 47th St., New York 10036
Web
www.timessquarenyc.org
Subway
1, 2, 3, 7, N, Q, R, S
, W (Times Sq./42nd St.)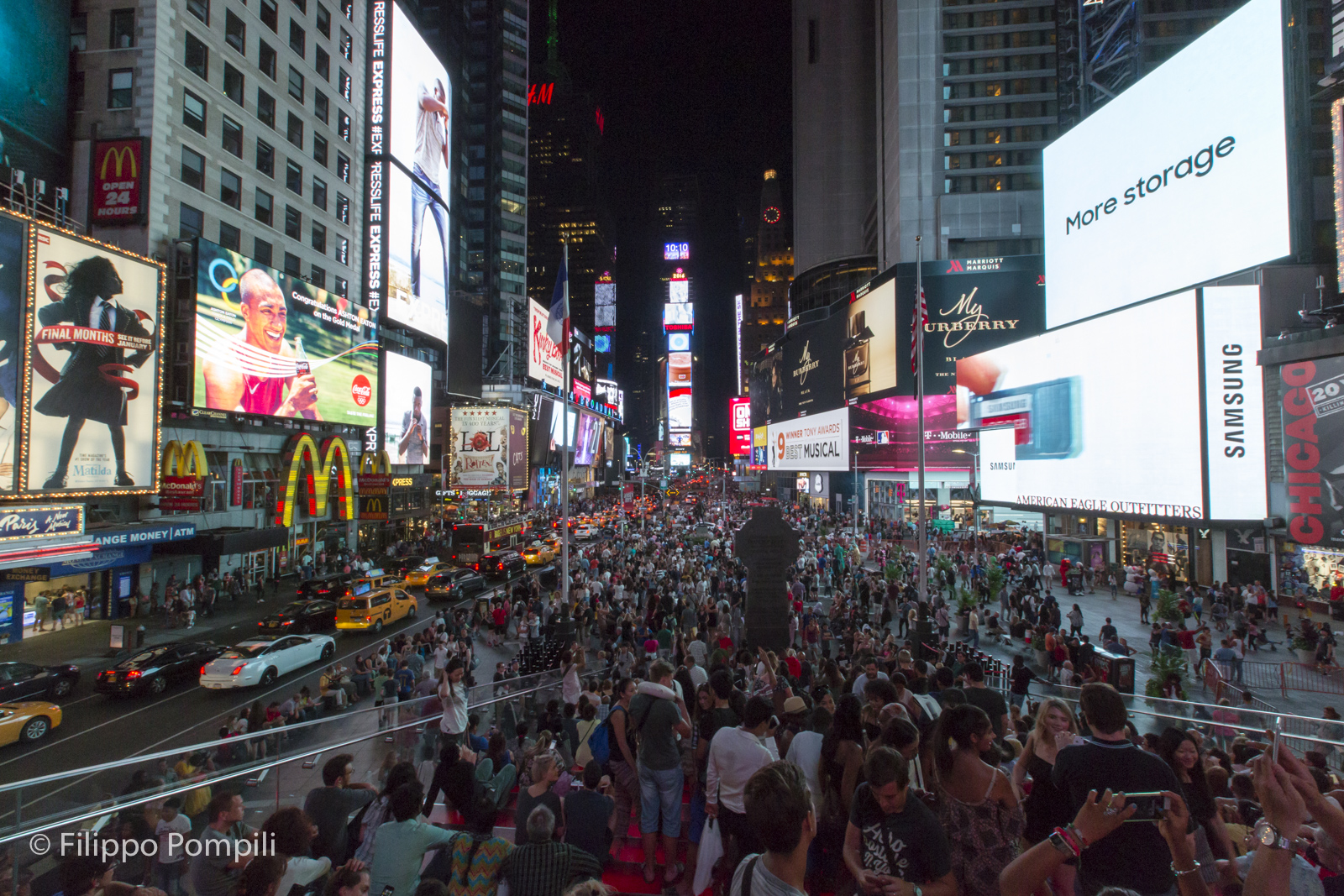 Universally known as "The Crossroads of the World", this famous square was originally called
Longacre Square
, named after a street in London known for the presence of carriage manufacturers and was renamed on April 13, 1904, at the request of the financier and politician August Belmont. The name referred to the Times Tower, the building built near 43rd St. on a project by architects Cyrus L.W. Eidlitz and Andrew C. McKenzie, where at the end of that year the New York Times would move its headquarters from Park Row. To celebrate this event, Adolph Ochs, publisher of the newspaper, organized a big fireworks party on the evening of December 31, which became a tradition that is still active today.
In the early years of the 20th century, the area increasingly assumed the role of an important point of exchange for transport between the north and south of the island of Manhattan, a role that was strengthened with the construction of the Grand Central Terminal.
Already at the end of the 19th century many theatres moved to this area. The Rialto began, then in 1893 the Metropolitan Opera House, in 1894 the Empire Theater and again the following year, the Olimpia Music Hall. Later others arrived, staging not only plays, but also operettas, concerts and cabarets. Around 1920 the film industry began to change the genre of entertainment and many theaters were closed to make room for theaters.
With the severe economic crisis of 1929, the area began a radical transformation. Many theatres and cinemas began to produce pornographic shows, prostitution spread and many restaurants and business premises opened. This negative boom was most widespread during the World War II. Only in the eighties the municipal administration began a work of redevelopment of the area that has brought it to its present glory.
References
Kenneth T. Jackson, Lisa Keller, Nancy Flood
.
The Encyclopedia of New York City: Second Edition
. Yale University Press, 2010. pp. 1316-1318
Henry Moscow
.
The Street Book: An Encyclopedia of Manhattan's Street Names and Their Origins
. Fordham University Press, 1990. p. 100
Gerard R. Wolfe
.
New York, a Guide to the Metropolis: Walking Tours of Architecture and History
. McGraw-Hill, 1994, 2° ed. pp. 299-303
Times Square
(Wikipedia)
History of Times Square
(Times Square District Management Association)