St. Thomas Church
1 W 53rd St. (& Fifth Ave.), New York, NY 10019
Web
www.saintthomaschurch.org
Contacts
(212) 757-7013
Accessibility
Wheelchair accessible (ramp on 53rd St.).
Subway
E
, M (5th Ave./ 53rd St.)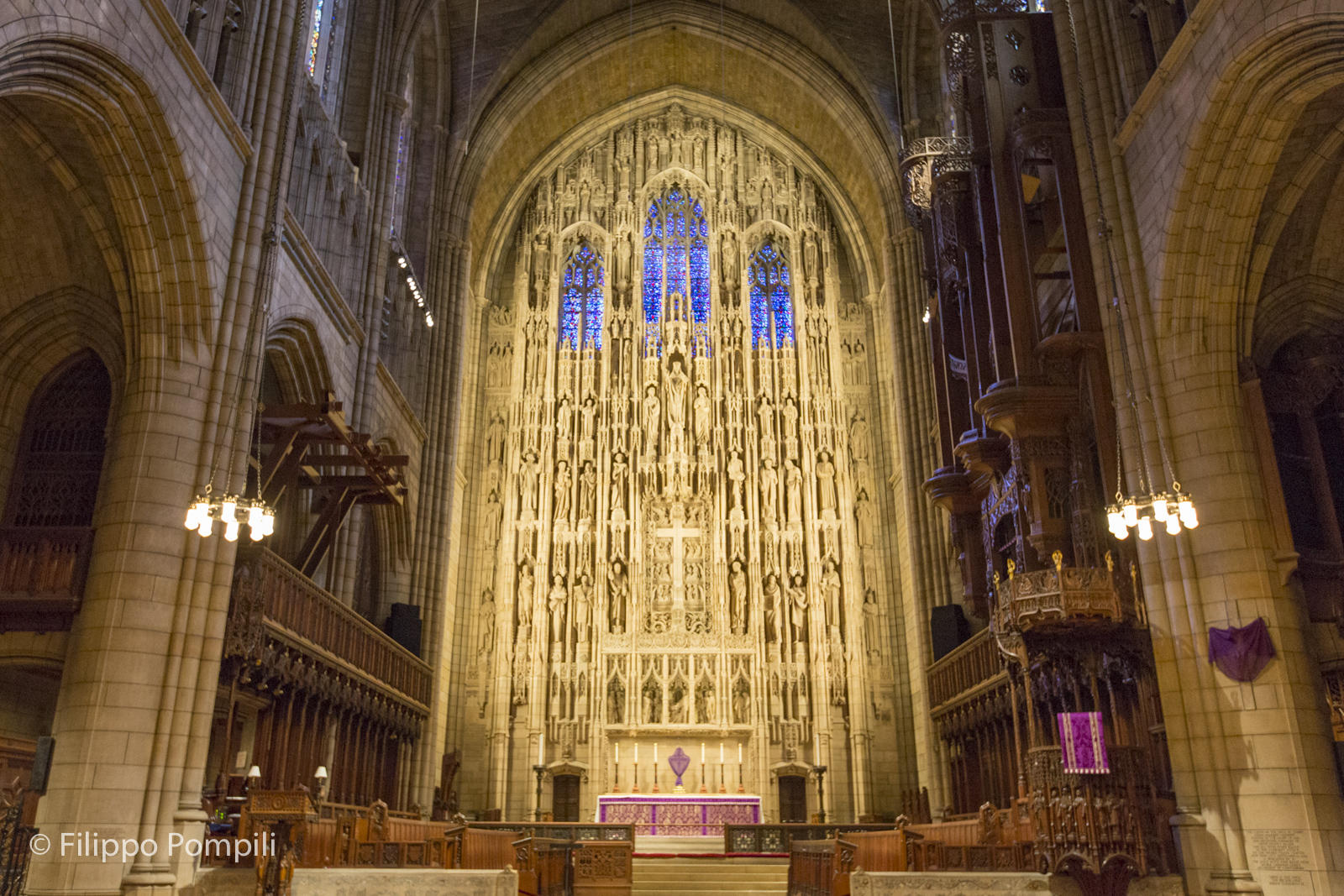 St. Thomas is an Episcopal Church that was established on October 12, 1823 in a simple room on the corner of Broome Street and Broadway. The present building was built between 1911 and 1914 to replace an earlier one destroyed by fire in 1905 and was consecrated on April 25, 1916. The church was built from Kentucky limestone and designed by architects Ralph Adams Cram, who took care of the general structure, and Bertram Grosvenor Goodhue, who took care of the interior details. The interior is 65 meters long, 13 meters wide and 29 meters high, not far from the nearby and prestigious St. Patrick's Cathedral (93 x 14.6 x 33 meters).
On the imposing marble altarpiece behind the altar, sixty figures from Christian history have been carved to Goodhue's design by sculptor Lee Lawrie. The wooden choir has inlays that were made by Goodhue and among others reproduce some contemporary images such as an airplane, a car, images of the First World War and the sinking of the RMS Lusitania, the ocean liner sunk by a German U-boat.
There is a singing school founded in 1919 and made up exclusively of children between 8 and 14 years old. Since 2005 the school has also offered a summer course for girls. The school concerts take place in the church.
References
Kenneth T. Jackson, Lisa Keller, Nancy Flood
.
The Encyclopedia of New York City: Second Edition
. Yale University Press, 2010. p. 1143
Francis Morrone
.
The Architectural Guidebook to New York City
. Gibbs Smith, 2002. pp. 231-233
History
(St. Thomas Church)
Saint Thomas Church (Manhattan)
(Wikipedia)