St. Bartholomew's Church
325 Park Ave. (& 51st St.), New York, NY 10022
Web
www.stbarts.org
Contacts
(212) 378-0222
Subway
6
(51st St.);
E
, M (Lexington Ave./53 St.)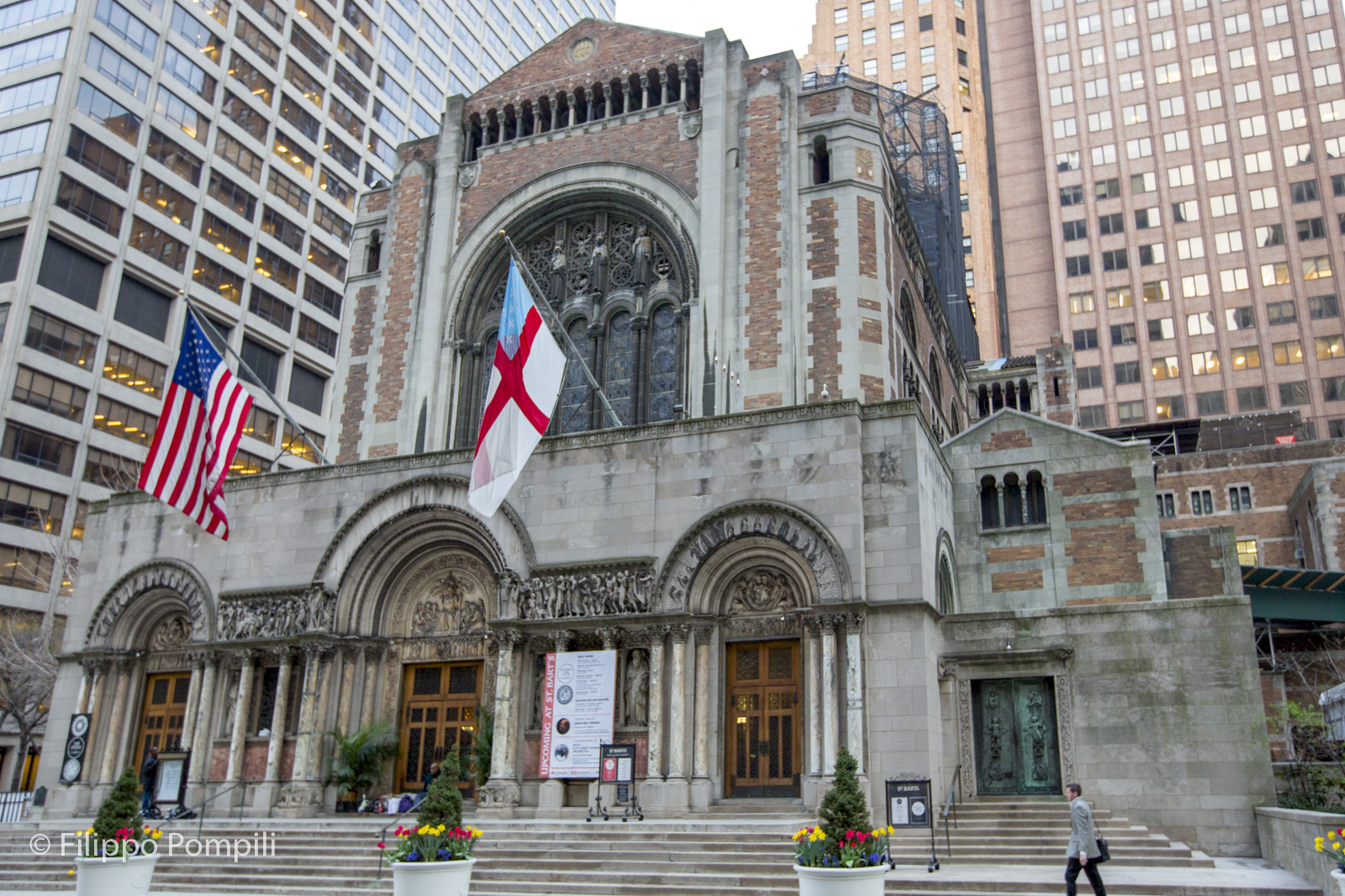 This congregation was founded in January 1835 as part of the evangelical movement in the Episcopal Church and the first church was located on the corner of Great Jones Street and Lafayette Place. Between 1872 and 1876 a new and larger church was built on Madison Avenue & 44th Street designed by James Renwick, architect of St. Patrick's Cathedral, in the style of Lombard architecture, to which was later added a triple Romanesque Revival portal designed by Stanford White.
Over time, serious structural problems became evident in the Madison Avenue building and Bertram Goodhue was commissioned to design a new church on Park Avenue between 50th and 51st St. The building was built in Romanesque style integrating the new structure of the old building's Stanford White portal and the interior was decorated in Byzantine style with large mosaics. Its 12,422 pipes organ is the largest in New York and one of the largest in the world. The first mass was celebrated on 20 October 1918 although the building was only completed definitively in 1930.
References
Kenneth T. Jackson, Lisa Keller, Nancy Flood
.
The Encyclopedia of New York City: Second Edition
. Yale University Press, 2010. p. 1136
Francis Morrone
.
The Architectural Guidebook to New York City
. Gibbs Smith, 2002. pp. 160-164
History
(www.stbarts.org)
St. Bartholomew's Episcopal Church (Manhattan)
(Wikipedia)
St. Bartholomew's Church (Episcopal)
(The NYC Chapter of the American Guild of Organists)