Seagram Building
375 Park Ave. (52nd St. & 53rd St.), New York, NY 10152
Web
www.375parkavenue.com
Subway
6
(51st St..);
E
, M (Lexington Ave./53 St.)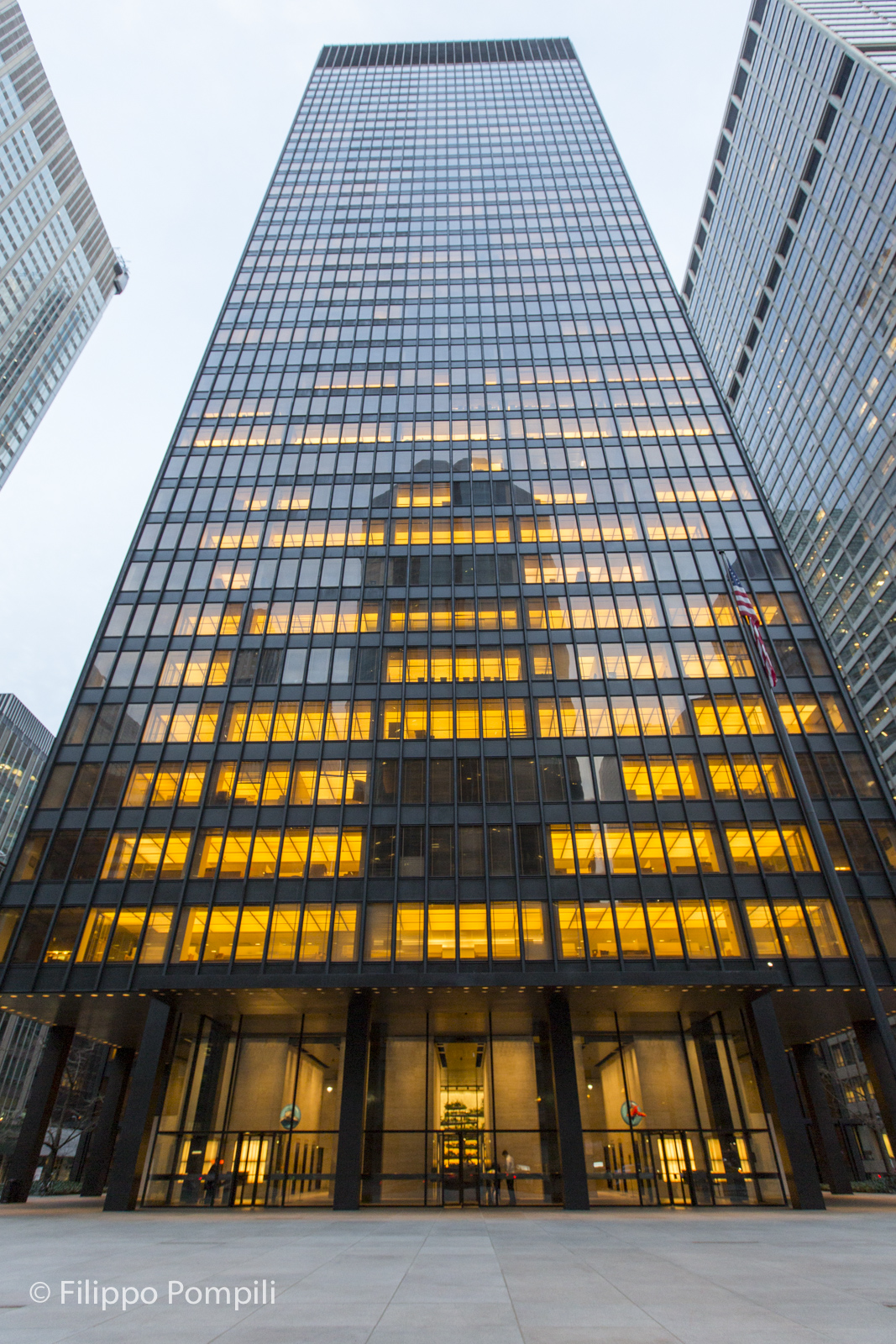 The Seagram Building is one of the greatest examples of the Modern Movement, an architectural movement that developed in the period between the two world wars and that marked the projects of the buildings according to criteria of functionality. The main architects were Le Corbusier, Ludwig Mies van der Rohe, Walter Gropius, Frank Lloyd Wright, Alvar Aalto but also the Italians Giovanni Michelucci, Piero Portaluppi, Gio Ponti, Gualtiero Galmanini.
This skyscraper, 157 meters high with 38 floors, was designed by the German architect Ludwig Mies van der Rohe in collaboration with Philip Johnson who took care of the interior and was completed in 1958. According to the designer's idea, the structure should be visible and not hidden, in particular the steel beams with which the skyscrapers were normally built during that period. This, however, clashed with the regulations of the time which required that the steel structures be covered with fireproof material, almost always concrete. So Mies van der Rohe decided to use a "standard" internal structure with reinforced concrete, but inserting non-structural bronze beams into the external walls, which ran vertically, like uprights, on the facade of the building, delimiting the smoked glass windows. The result was a homogeneous façade with clean and simple lines.
Among the materials used for its construction were 1,451 tons of bronze and expensive travertine and marble, so when it was completed the building was considered the most expensive skyscraper in the world ever built.
References
Francis Morrone
.
The Architectural Guidebook to New York City
. Gibbs Smith, 2002. pp. 165-167
History
(375 Park Avenue)
Seagram Building
(Wikiarquitectura)
Seagram Building
(Wikipedia)
Useful links
Seagram Building
(WTTW)
Building Seagram: A Memoir of Mies and Modernism
(Architectural Review)