Radio City Music Hall
1260 6th Ave., (50th & 51st St.), New York, NY 10020
Web
www.msg.com
Contacts
(212) 465-6741
Accessibility
Wheelchair accessible.
Subway
B,
D, F
, M (47-50 Streets-Rockefeller Center);
1
(50th St.);
N, R
, W (49th St.)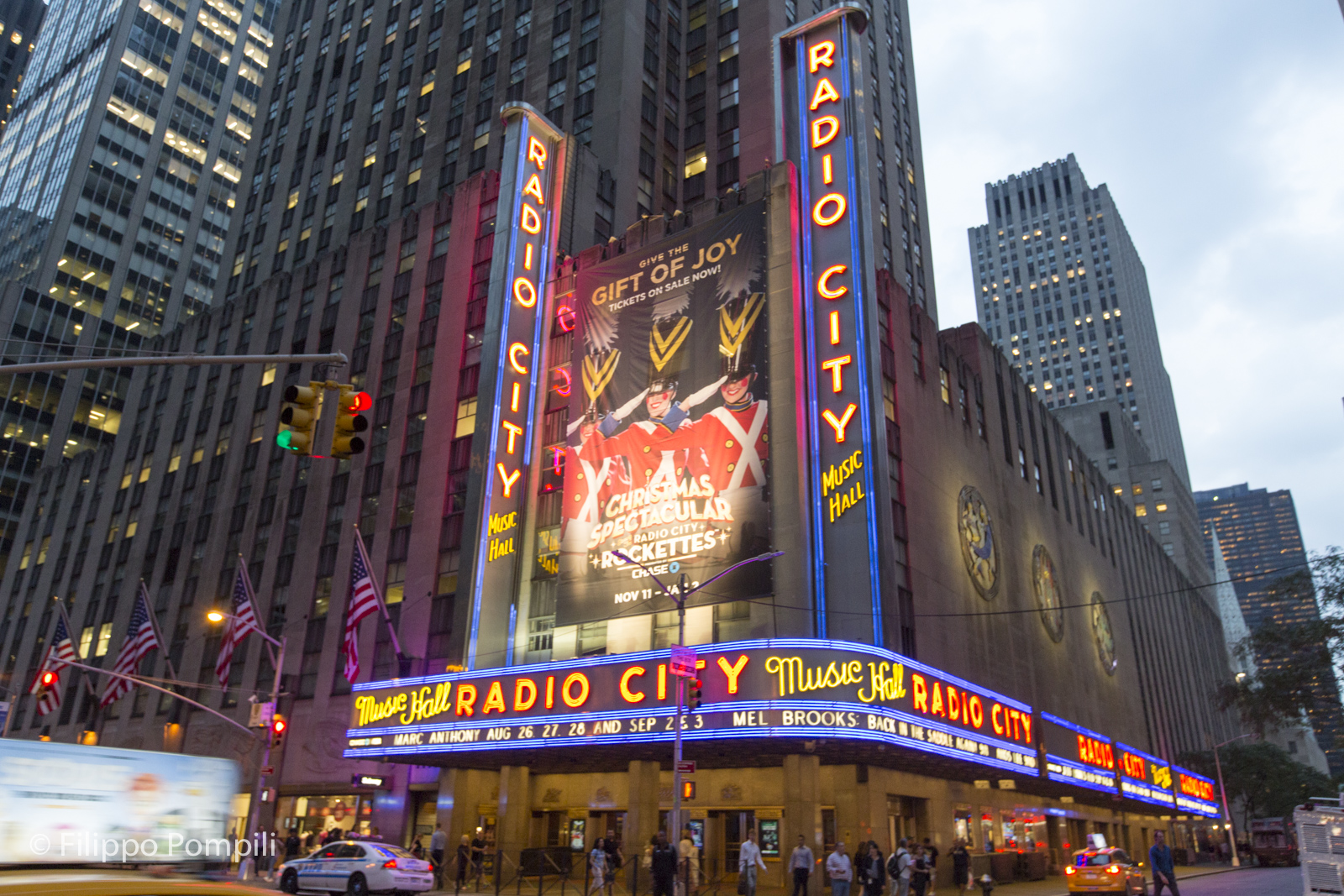 The Radio City Music Hall, known as "The Showplace of the Nation", was designed by architect Edward Durell Stone and interior designer Donald Deskey and opened on December 27, 1932. The interior is considered one of the finest examples of Art Deco in the world, with a majestic atrium and the large 5900-seat room with a ceiling decorated with warm, bright colors that give the illusion of a sunset.
After its opening, a typical performance consisted of a live performance accompanied by the screening of a film. This type of production lasted for about 50 years. Today the theatre is used for concerts, television shows, events of various kinds and is also home to the Radio City Christmas Spectacular, the traditional New York Christmas show that has been staged since 1933 and where The Rockettes, a famous company of dancers, performed.
Among the artists who have walked the stage of Radio City Music Hall are the great Frank Sinatra, Ella Fitzgerald, John Denver, Ray Charles, BB King, Count Basie Orchestra, Linda Ronstadt, Sammy Davis jr, Liza Minnelli, Tony Bennett, Sting, Roger Waters, bass player of Pink Floyd, Michael Jackson, Celine Dion, Josè Carreras, Eurythmics.
References
Kenneth T. Jackson, Lisa Keller, Nancy Flood
.
The Encyclopedia of New York City: Second Edition
. Yale University Press, 2010. p. 1073
Francis Morrone
.
The Architectural Guidebook to New York City
. Gibbs Smith, 2002. p. 242
History of Radio City Music Hall
(The Madison Square Garden Company)
Radio City Music Hall
(Wikipedia)
AD Classics: Radio City Music Hall / Edward Durell Stone & Donald Deskey
(ArchDaily)