The Public Theater
425 Lafayette (East 4th St. & Astor Pl.), NY 10003
Web
www.publictheater.org
Contacts
(212) 5398500
Subway
R
, W (8th St./NYU);
6
(Astor Pl.)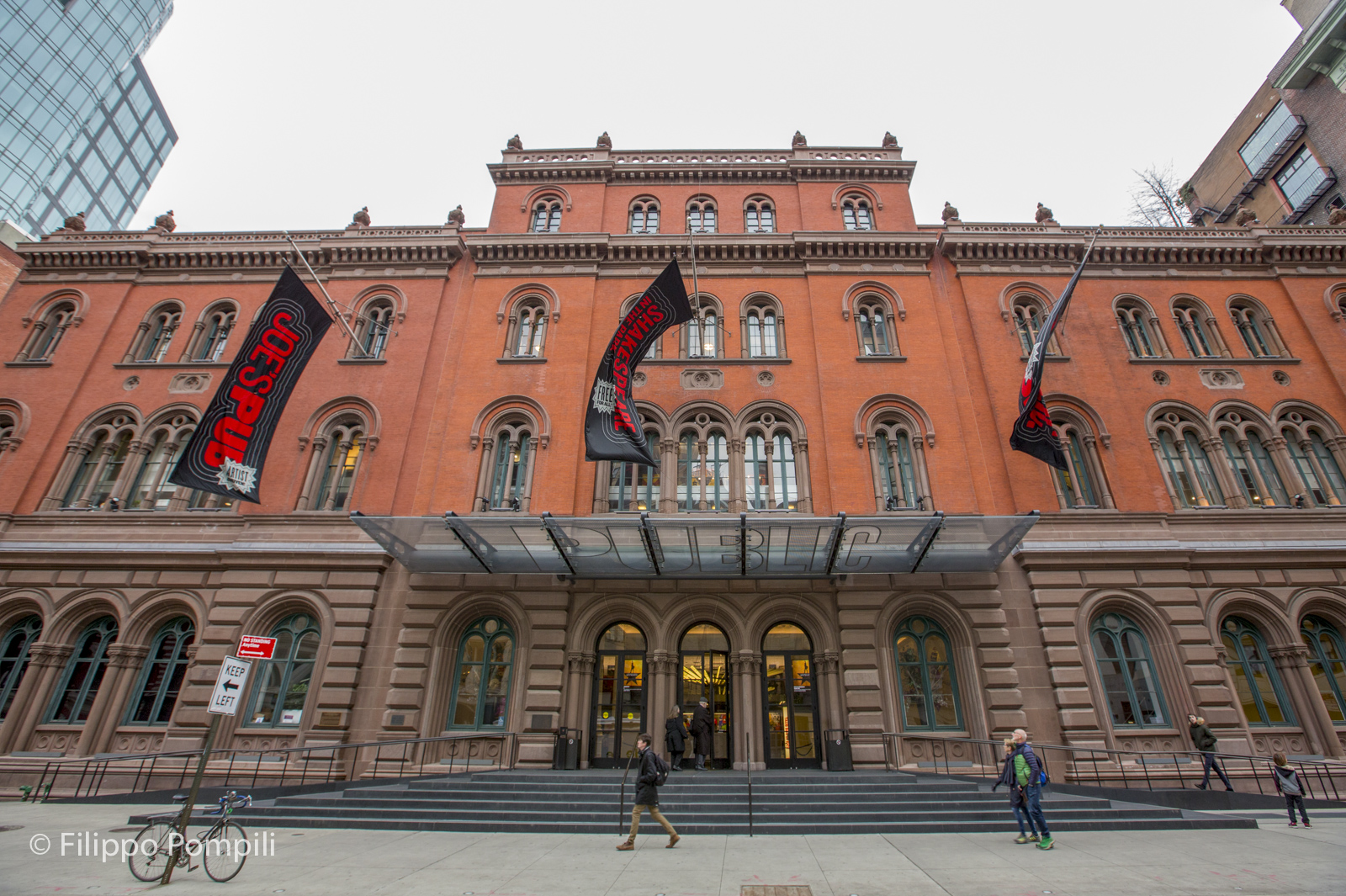 The building was built by William B. Astor, son of the founder of the library, John Jacob Astor, who commissioned the German-born architect Alexander Saeltzer, who also designed the Anshe Chesed Synagogue. The structure follows the Rundbogenstil style particularly widespread in Germany, that combines elements of Byzantine, Romanesque, and Renaissance architecture. Construction began in 1849 and was completed in three successive phases, in 1853 the south wing, in 1859 the central and in 1881 the north wing. It was the first public library in the city and in 1895 it was united with the Tilden Foundation and the Lenox Library to form the New York Public Library. Between 1921 and 1965 the building housed the headquarters of the Hebrew Immigrant Aid Society (HIAS), a large company that dealt with immigration into the "land of freedom" of many refugees. When HIAS was moved, the building was saved from demolition thanks to the efforts of producer Joseph Papp, who proposed it as the permanent home of the New York Shakespeare Festival. The restorations were carried out under the supervision of the Italian architect Giorgio Cavaglieri, the same as the Jefferson Market Courthouse and were completed in 1967, maintaining the original design of much of the interior. The theater was inaugurated on October 29, 1967 with the controversial musical Hair, whose producers always proposed here another famous musical, A Chorus Line, which was then performed on Broadway for fifteen years.
In 1991 Papp died and the following year the theatre was renamed "Joseph Papp Public Theater" in his honor.
References
Kenneth T. Jackson, Lisa Keller, Nancy Flood
.
The Encyclopedia of New York City: Second Edition
. Yale University Press, 2010. p. 1057
Francis Morrone
.
The Architectural Guidebook to New York City
. Gibbs Smith, 2002. pp. 93-94
The Public Theater
(Wikipedia)
Useful links
Streetscapes/The Old Astor Library, Now the Joseph Papp Public Theater
(The New York Times)