New York Stock Exchange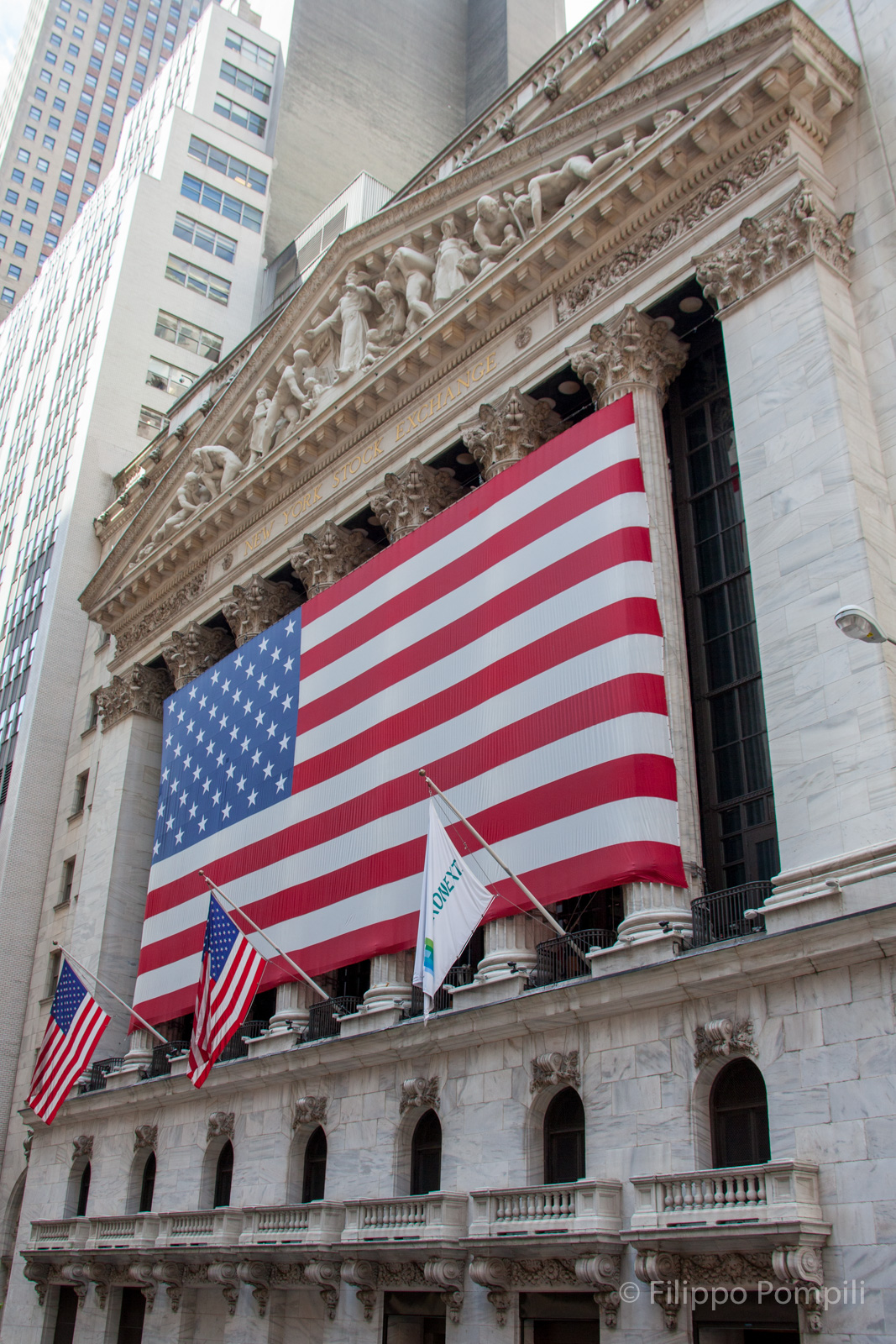 The New York Stock Exchange, also known as the "Big Board", trades over 12,000 products with a total capitalization of $21,000 billion and is the world's largest stock exchange in terms of trading volume.
Descended from an institution founded in 1792, it was established on March 8, 1817 under the name of "New York Stock & Exchange Board" which was simplified in 1863 in New York Stock Exchange. On September 20, 1873 the stock exchange closed for ten days following the bankruptcy of Jay Cooke & Company and the subsequent financial crisis called "Panic of 1873" that affected the United States and Europe. Between 1896 and 1901, the market increased sixfold and a larger headquarters had to be built. The project was entrusted to the architect George B. Post who designed a neoclassical building with a facade with six Corinthian columns supporting a triangular marble pediment. This was decorated with a high relief entitled "Integrity Protecting the Works of Man" and designed by John Quincy Adams Ward with the collaboration of Paul Wayland Bartlett. The building, costing 4 million dollars, had a large bargaining room (30 m × 56 m, 24 m high) and was inaugurated on April 22, 1903. It was here that the operators of the time experienced the dramatic crash of 1929, Black Tuesday (October 29, 1929), followed by the depression of the 30s and, more recently, the famous "Black Monday" (October 19, 1987) when the Down Jones recorded a drop of 508 points.
In 2007, the NYSE Group merged with Euronext, the group of European stock exchanges, creating the NYSE Euronext. In 2012 it was acquired by Intercontinental Exchange, which again separated the two stock exchanges.
Like many other places in the city, the New York Stock Exchange was used to shoot the scenes of some films. Among the main ones were "Trading Places" (1983), with Eddie Murphie and "Wall Street" (1987), with Michael Douglas and Charlie Sheen.
References
Kenneth T. Jackson, Lisa Keller, Nancy Flood
.
The Encyclopedia of New York City: Second Edition
. Yale University Press, 2010. pp. 932-934
Gerard R. Wolfe
.
New York, a Guide to the Metropolis: Walking Tours of Architecture and History
. McGraw-Hill, 1994, 2° ed. pp. 57-58
AMERICAN STOCK EXCHANGE Historical Timeline
(NYSE)
Useful links
The NYSE's 222-Year Evolution
(The Wall Street Journal)