New York Public Library
Stephen A. Schwarzman Building
476 Fifth Ave., New York, NY, 10018
Web
www.nypl.org
Contacts
(212) 340-0863
Opening hours
8:00am-8:00pm (Monday and Thursday); 8:00am-9:00pm (Tuesday and Wednesday); 8:00am-6:00pm (Friday); 10:00am-6:00pm (Saturday); 10:00am-5:00pm (Sunday).
Accessibility
Wheelchair accessible.
Subway
7
(5th Ave.); B,
D, F
, M (42nd St – Bryant Park)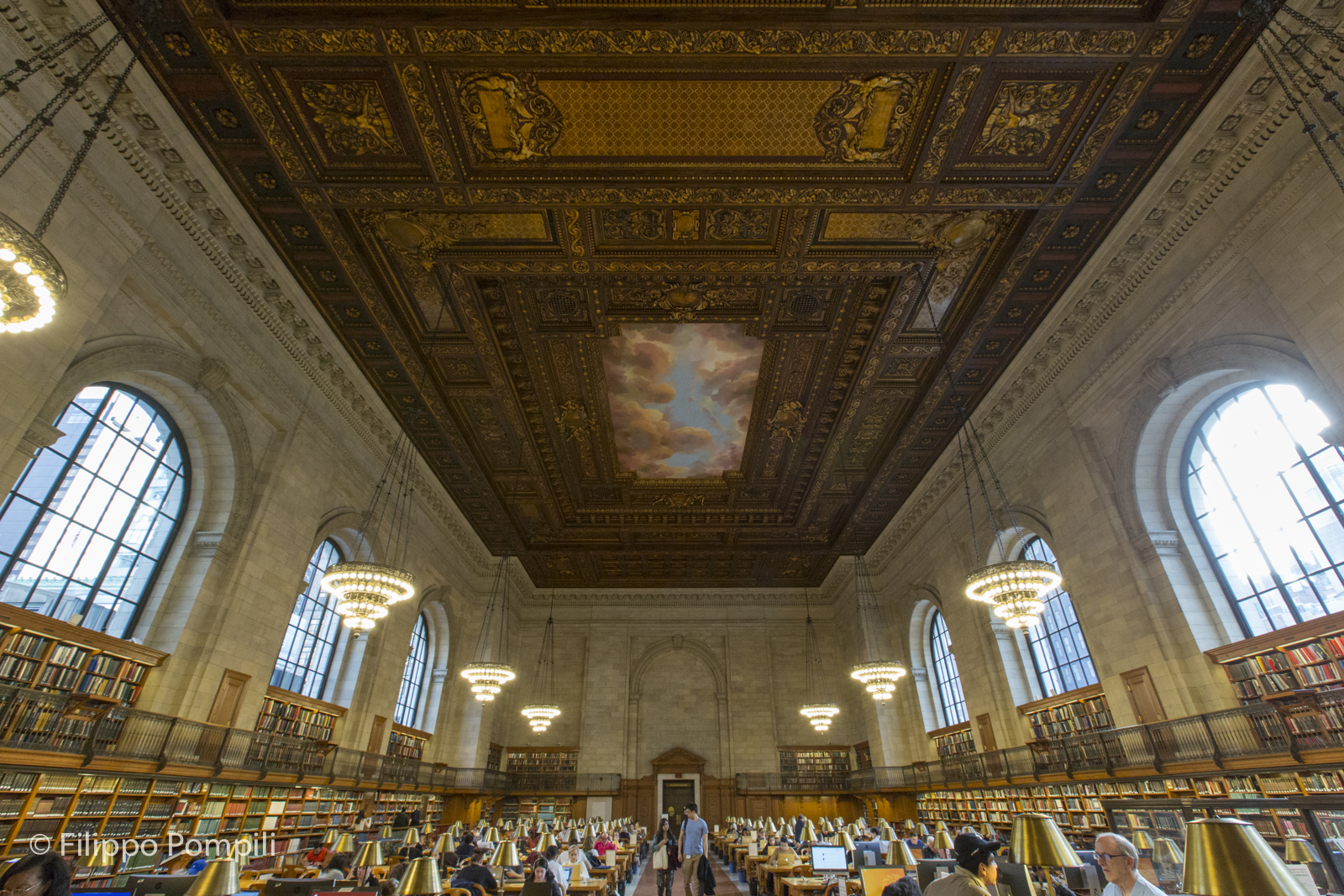 The
Stephen A. Schwarzman Building
, the headquarters of the New York Library, was inaugurated in 1911 and is a classic example of the Beaux Arts style that was designed by the architectural firm Carrère & Hastings. The structure is built around two inner courtyards and is externally covered with Vermont marble. The external staircase is dominated by two lions sculpted by Edward Clark Potter (26 November 1857 - 21 June 1923) nicknamed
Patience
and
Fortitude
. The sculptures on either side of the main entrance, by sculptor Frederick William MacMonnies (28 September 1863 - 22 March 1937), depict a man sitting on a sphinx and a woman sitting on Pegasus, representing truth and beauty respectively. The six figures above the entrance of the sculptor Paul Wayland Bartlett (24 January 1865 - 20 September 1925) symbolise philosophy, novel, religion, poetry, drama and history from left to right, respectively.
Inside, the entrance is dominated by the
Astor Hall
with white marble walls and two large side staircases leading to the upper floors.
The main reading room is the
Rose Main Reading Room
with a beautiful coffered wooden and painted coffered ceiling. Due to the lack of space in the 1980s, it was decided to exploit the subsoil of nearby Bryant Park. Work began in 1988 and was completed three years later, creating over 64 km of new shelves.
The New York Public Library originated in 1895 from the merger of the three largest libraries in the city: the
Astor Library
, the
Lenox Library
and the
Tilden Foundation
. It is one of the most important libraries in the United States with about 8.5 million books to which are added manuscripts, maps, prints, documents and more. These include a minute of the Declaration of Independence written by President Thomas Jefferson, a Bible printed by Gutenberg and various manuscripts by Galileo Galilei. The library has many branches throughout the city.
References
Kenneth T. Jackson, Lisa Keller, Nancy Flood
.
The Encyclopedia of New York City: Second Edition
. Yale University Press, 2010. pp. 929-931
Gerard R. Wolfe
.
New York, a Guide to the Metropolis: Walking Tours of Architecture and History
. McGraw-Hill, 1994, 2° ed. pp. 312, 314-315
About the Stephen A. Schwarzman Building
(The New York Public Library)
New York Public Library
(Wikipedia)