Morris-Jumel Mansion
65 Jumel Terrace (160th St. & 162nd St.), New York, NY, 10032
Web
www.morrisjumel.org
Contacts
+1 (212) 923-8008
Opening hours
10:00am-4:00pm (Tuesday-Friday); 10:00pm-5:00pm (Saturday-Sunday).
Admissions
A pagamento.
Accessibility
Only the park is wheelchair accessible. For visitors with limited mobility there is a side entrance with three steps.
Subway
C
(163rd St. – Amsterdam Ave.)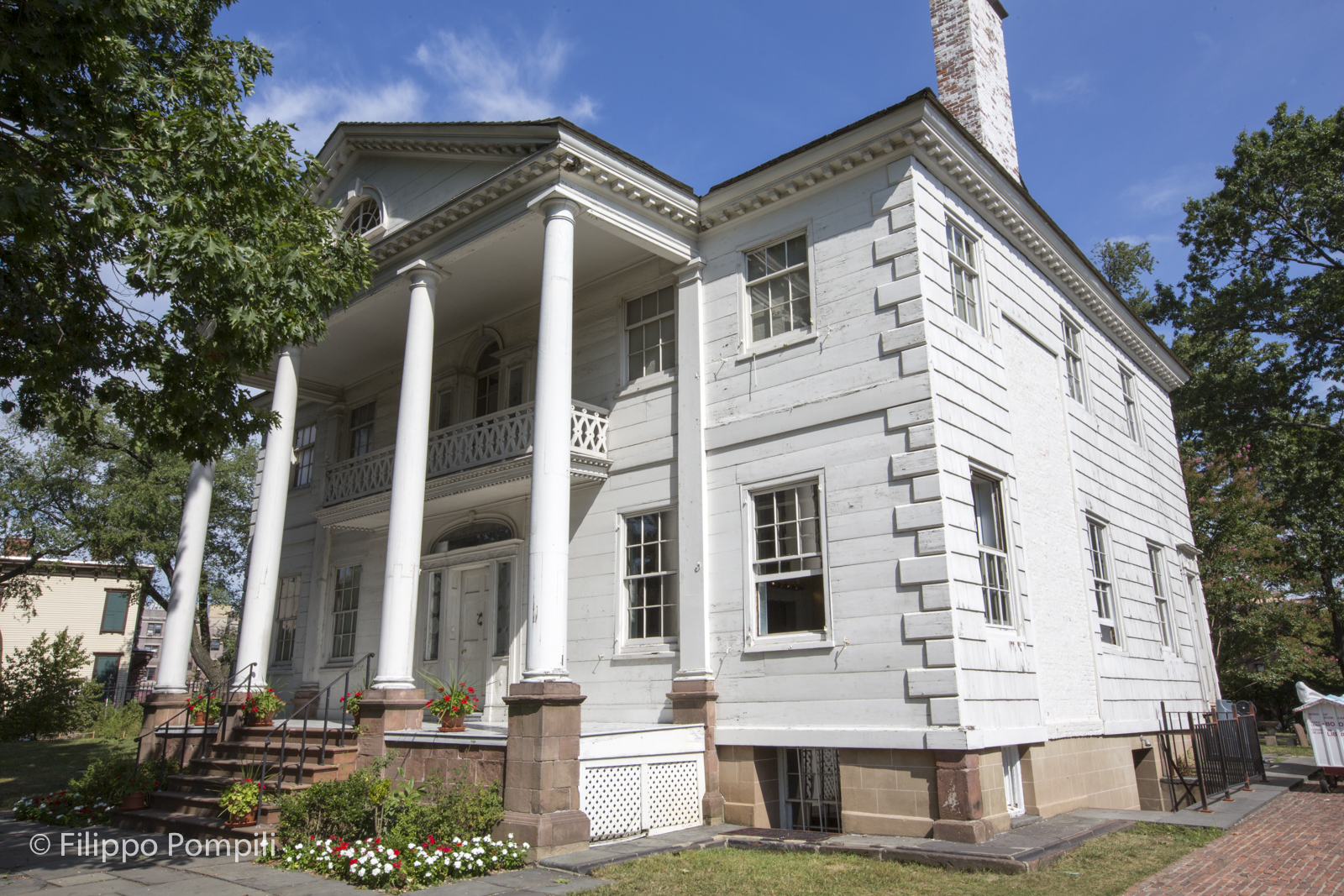 Located on one of the highest points in Manhattan with views of New Jersey, Connecticut and New York Harbour, this residence was built in 1765 as a summer villa in the style of Palladian architecture, by English Colonel Roger Morris and his wife Mary Philipse. The property stretched over 130 acres from the Harlem River to the Hudson River and the land was cultivated with fruit trees and used to graze cows and sheep. The structure has a frontal porch that develops in height for the two floors of the villa with four columns of Tuscan order and a pediment that completes it. There is also a two-storey octagonal room at the back of the villa which is believed to be the first of its kind in the village.
During the American Revolution, the Morris had to leave their home because they were Tories, settlers loyal to Britain. The house was then used by George Washington and his patriots who, thanks to its high and strategic position, transformed it into headquarters for five weeks in the autumn of 1776. Despite the victory in the battle of Harlem Heights, Washington was forced to leave the island of Manhattan and the residence was taken by the British and their Assian allies (German mercenary soldiers) who in turn used it as headquarters. At the end of the war the new government of the United States of America confiscated the villa and its properties. Twenty years after the Revolution, in 1810, the house was bought by French merchant Stephen Jumel and his wife Eliza Bowen. Eliza Bowen had grown up in a very poor family in Rhode Island, but thanks to her entrepreneurial spirit she ended up becoming one of the richest women in New York, helping her husband when her business was in ruins. After her husband's death Bowen married Aaron Burr who ran to become president in 1800, but lost the elections won by Thomas Jefferson. However, Burr was appointed vice president of the United States of America under Jefferson's chairmanship. Burr accused his political rival Alexander Hamilton of the electoral defeat, so much so that he challenged him in a duel and killed him. Burr was accused of high treason because of an alleged secession of some of the western territories but was then released in 1807 for lack of evidence but still remains one of the most controversial characters in the history of the United States of America.
In 1904 the city of New York bought the house and turned it into a museum and today the Morris-Jumel Mansion is the oldest house in Manhattan.
References
Kenneth T. Jackson, Lisa Keller, Nancy Flood
.
The Encyclopedia of New York City: Second Edition
. Yale University Press, 2010. pp. 854-855
A Brief History of the Morris-Jumel Mansion
(Morris-Jumel Mansion)
Morris-Jumel Mansion
(Wikipedia)