Manhattan Bridge
Canal St. & Bowery St., NY (Manhattan side)
Flatbush Avenue Extension & Tillary St., NY (Brooklyn side)
Web
Manhattan Bridge
(New York City Department of Transportation)
Metro (Manhattan side)
B,
D
(Grand St.);
6, J, N, Q, R
, W, Z (Canal St.)
Metro (Brooklyn side)
F
(York St.);
A, C
(High St.)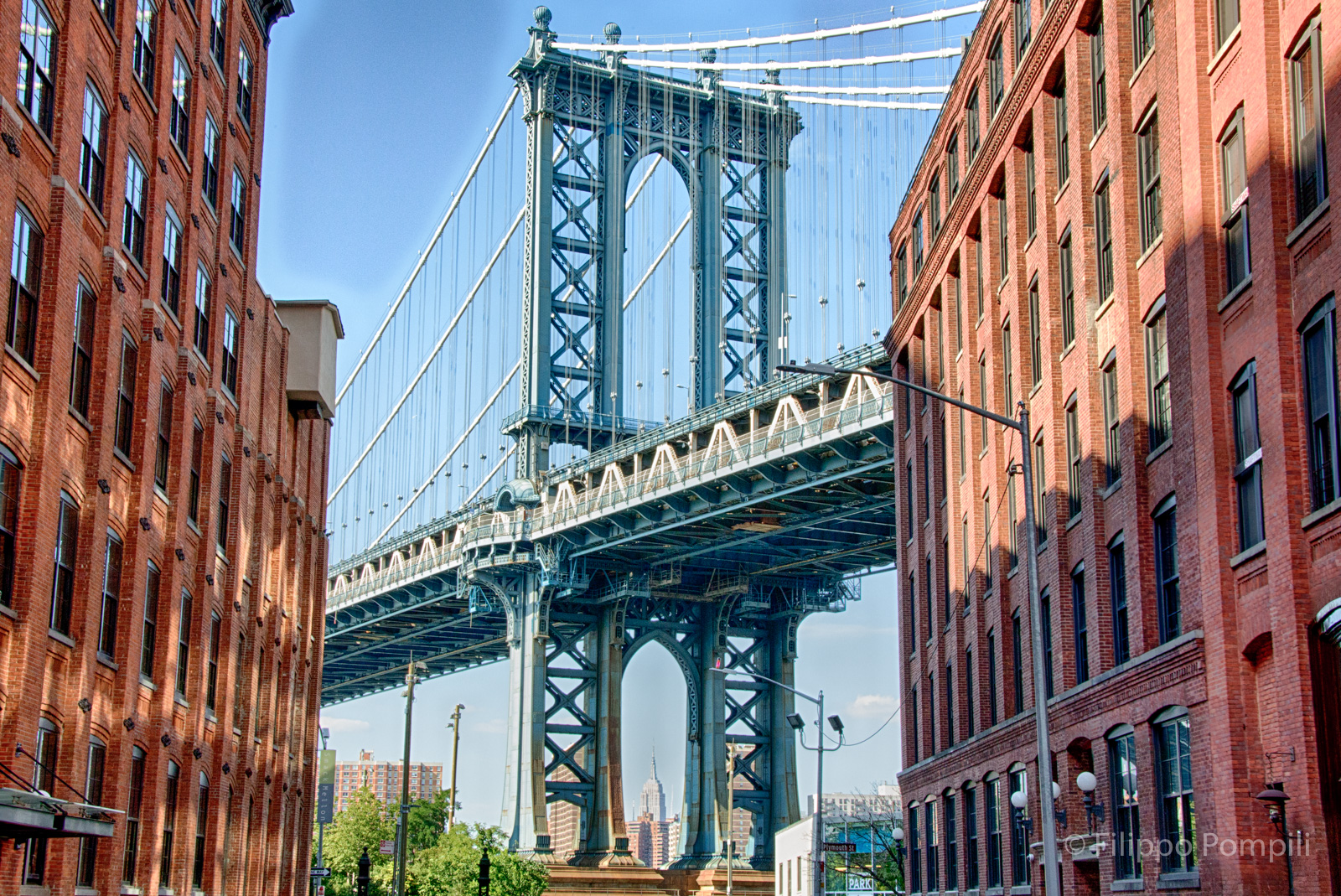 The Manhattan Bridge was the third bridge built in downtown to connect Manhattan to Brooklyn, after the Brooklyn Bridge in 1883 and the Williamsburg Bridge in 1903. It was designed by Leon Moisseiff and not, as is sometimes erroneously attributed, by Gustav Lindenthal who actually presented a project in 1903 that was rejected by the city administration. Leon Moisseiff was also the designer of the Tacoma Narrows Bridge
(1)
, which collapsed ruinously in the same year as its opening (1940).
The Manhattan Bridge was opened to traffic on December 31, 1909 and gave a strong impetus to emigration from the city to Brooklyn thanks to the inauguration of a shuttle, the
Three Cents Trolley
, which connected the two banks across the bridge at a very low rate, 3 cents.
It is a 1,856m long suspension bridge with a central span of 448m. It is divided into two levels with four lanes for car traffic above and three below, the latter with a direction that can be changed. There are also four subway tracks, a pedestrian lane and a cycle path. Every week, 450,000 commuters and 85,400 vehicles, 4,500 cyclists and 340,900 people travel on 950 metro trains pass through it. 75% of the traffic on the bridge is made up of public transport.
(1)
The Tacoma Narrows Bridge, probably due to design errors, was sensitive to the wind and on November 7, 1940, following gusts that reached 64 km/h began to oscillate significantly until the collapse of the road surface.
References
Kenneth T. Jackson, Lisa Keller, Nancy Flood
.
The Encyclopedia of New York City: Second Edition
. Yale University Press, 2010. p. 791
Manhattan Bridge
(New York City Department of Transportation)
Manhattan Bridge
(Encyclopaedia Britannica)
Manhattan Bridge
(Wikipedia)
Useful links
100 Years Later, Still No Respect for a Bridge
(The New York Times)