Madison Square Garden
4 Pennsylvania Plaza, New York, NY 10001
Web
www.thegarden.com
Accessibility
Wheelchair accessible.
Subway
1, 2, 3, A, C, E
(34th St./Penn Station)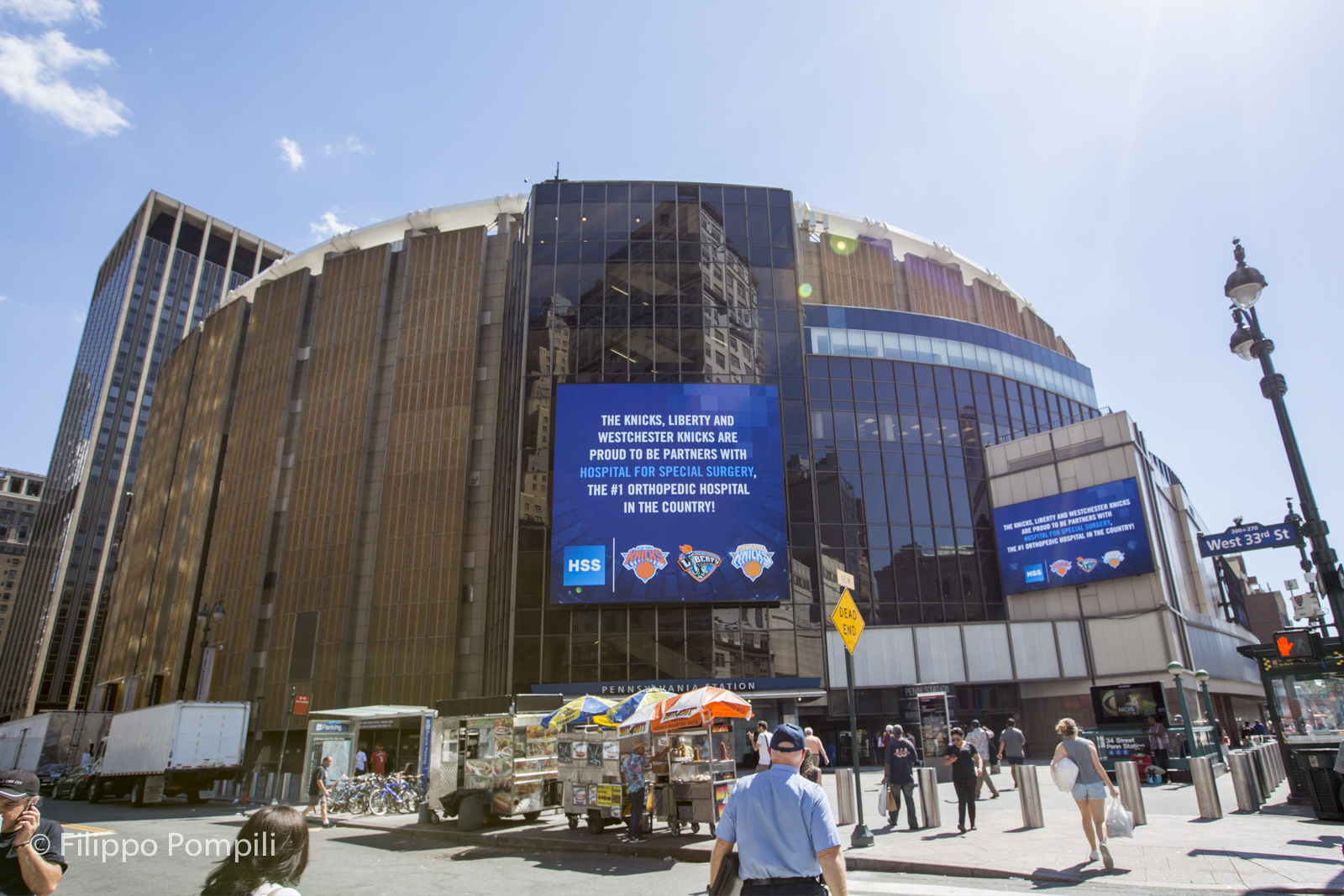 The current Madison Square Garden is the last of four buildings built to host shows and sporting events. The first was opened on May 31, 1879 by William Vanderbilt at 26th St. & Madison Ave. After ten years it was demolished because economically loss-making. In 1890 the second was built by the Horse Show Association in Moorish style on a project by Stanford White for a cost of $ 3 million. The structure was characterized by a tower, which White designed inspired by the Seville Giralda, which became the second tallest building in New York and its 8,000 seats auditorium was the largest in the United States. It also had a theater, a concert hall, apartments, the largest restaurant in the city and a roof garden. The roof garden was the scene of a tragic story. On 25 June 1906 the architect Stanford White was assassinated by the billionaire Harry K. Thaw, husband of his lover, the show girl Evelyn Nesbit. This second structure was demolished in 1925 to make room for the new headquarters of the New York Life Insurance Company. On November 28, 1925, a third building, designed by architect Thomas W. Lamb, was inaugurated at 50th St. & 8th Ave. The third building brought good profits, surpassing even the period of the Great Depression, offering mainly sporting events such as boxing, basketball and hockey, but also shows such as the circus.
The last and current building was inaugurated on February 11, 1968, a circular structure, costing $ 123 million, erected above the Pennsylvania underground railway station with about 20,000 seats. Today Madison Square Garden, often called "MSG" or simply "The Garden", is the field of the NBA basketball team,
New York Knicks
, the hockey team of the
New York Rangers
of the NHL championship and the
New York Liberty
women's basketball team of the WNBA.
References
Kenneth T. Jackson, Lisa Keller, Nancy Flood
.
The Encyclopedia of New York City: Second Edition
. Yale University Press, 2010. pp. 780-781
Gerard R. Wolfe
.
New York, a Guide to the Metropolis: Walking Tours of Architecture and History
. McGraw-Hill, 1994, 2° ed. pp. 255, 259-260
Madison Square Garden
(Wikipedia)
Madison Square Garden (1879)
(Wikipedia)
Madison Square Garden (1890)
(Wikipedia)
Madison Square Garden (1925)
(Wikipedia)