High Line Park
Gansevoort St. & Washington St., south entrance, New York, NY 10014
W 34th St. (11th Ave. & 12th Ave.), north entrance, New York, NY 10001
Web
www.thehighline.org
www.nycgovparks.org
Contacts
(212) 500-6035
Opening hours
7:00am - 7:00pm (December-March); 7:00am - 10:00pm (April-May); 7:00am - 11:00pm (June-September); 7:00am - 10:00pm (October-November).
Accessibility
Wheelchair accessible by lift from Gansevoort Street, 14th Street, 16th Street, 23rd Street and 30th Street; also street level from 34th Street.
Metro (south entrance)
A, C, E
(14th St.);
L
(8th Ave.)
Metro (north entrance)
7
(34th St./Hudson Yards)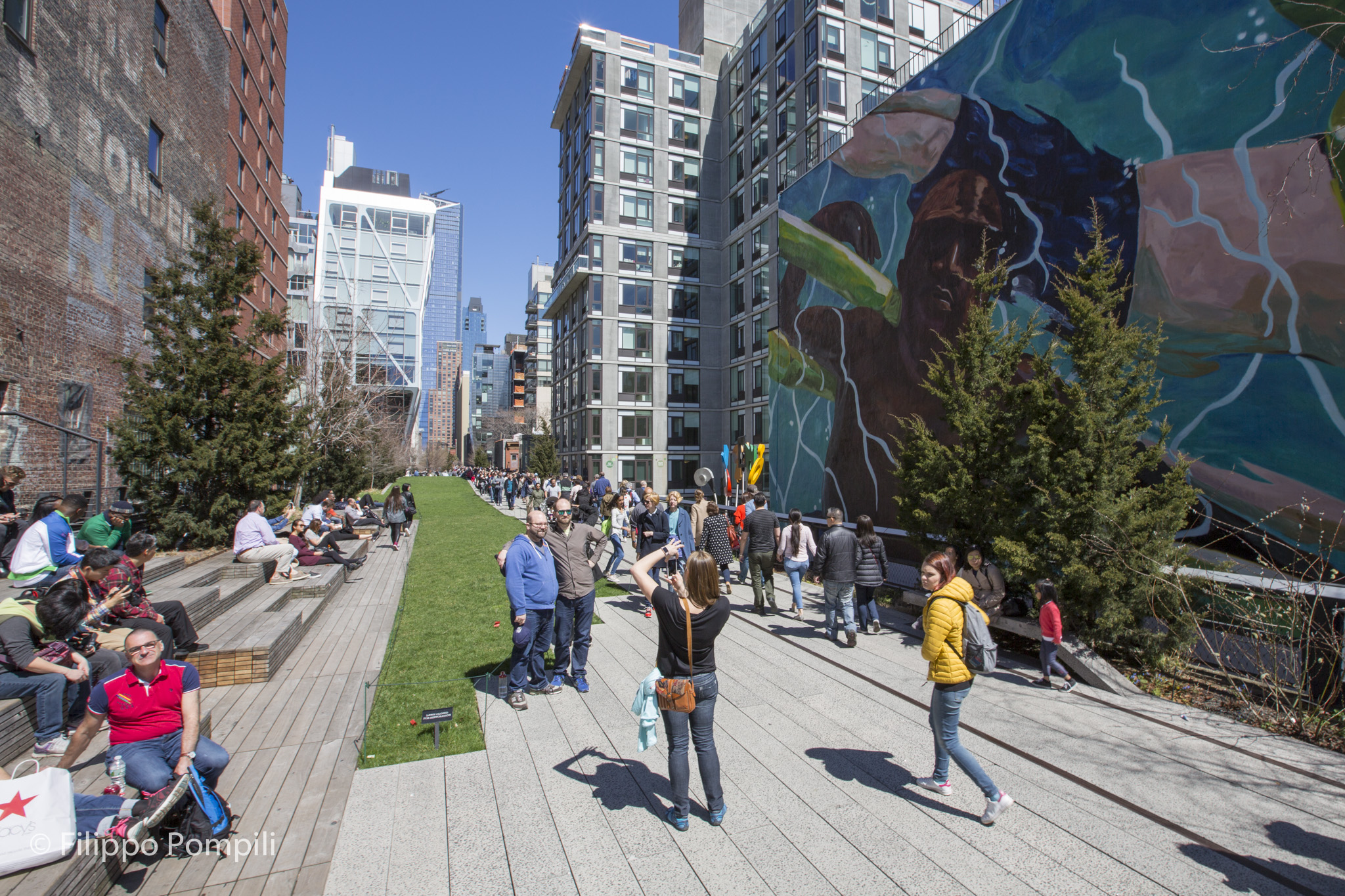 This old elevated freight line was part of the West Side Line, was opened in 1934 and remained operational until 1980. The railway was then abandoned and at the end of the 1990s it risked being demolished. But in 1999 a group of residents founded the Friends of the High Line with the aim of preserving and transforming the line into an urban park. Between 2002 and 2003 the association conducted an economic feasibility study for the implementation of a project for its reuse. In 2004 the architects Diller Scofidio + Renfro and Piet Oudolf were chosen, as well as the landscape architects Corner Field Operations.
On 9 June 2009 the first section (from Gansevoort Street to West 20th Street) was inaugurated, while on 8 June 2011 section 2 (from West 20th Street to West 30th Street) was opened to the public. Finally, September 21, 2014 was the time of the third and northernmost section of the park.
The complete route is about 2.4 km long and some places of interest are (from south to north):
-
Tiffany & Co. Foundation Overlook
, a lookout on Gansevoort Street;
-
14th Street Passage
, where some events are organized;
-
Chelsea Market Passage
, where there is a cafe and some food and craft stalls;
-
10th Avenue Square and Overlook
, at 17th St. with a small amphitheater overlooking 10th Avenue;
-
520 W 28th Street
, an apartment building at 28th St. designed by British naturalized Iraqi architect Zaha Hadid (1950 - 2016);
-
Pershing Square Beams
, in 30th St. where the old railway line structure has been transformed into a small children's playground;
-
Interim Walkway
, at the end with a beautiful view of the Hudson River.
References
Kenneth T. Jackson, Lisa Keller, Nancy Flood
.
The Encyclopedia of New York City: Second Edition
. Yale University Press, 2010. p. 595
About
(Friends of the High Line)
The High Line
(NYC Parks)
High Line
(Wikipedia)
Useful links
High Line
(DS+R Projects Studio)