Hearst Tower
959 8th Ave. (56th St. & 57th St.), New York, NY 10019
Web
www.hearst.com
Contacts
(212) 649-2000
Subway
B,
D, E
(7th Ave.);
1, A
, B
, C, D
(59th St./Columbus Circle);
N, Q, R,
W (57th St./7th Ave.)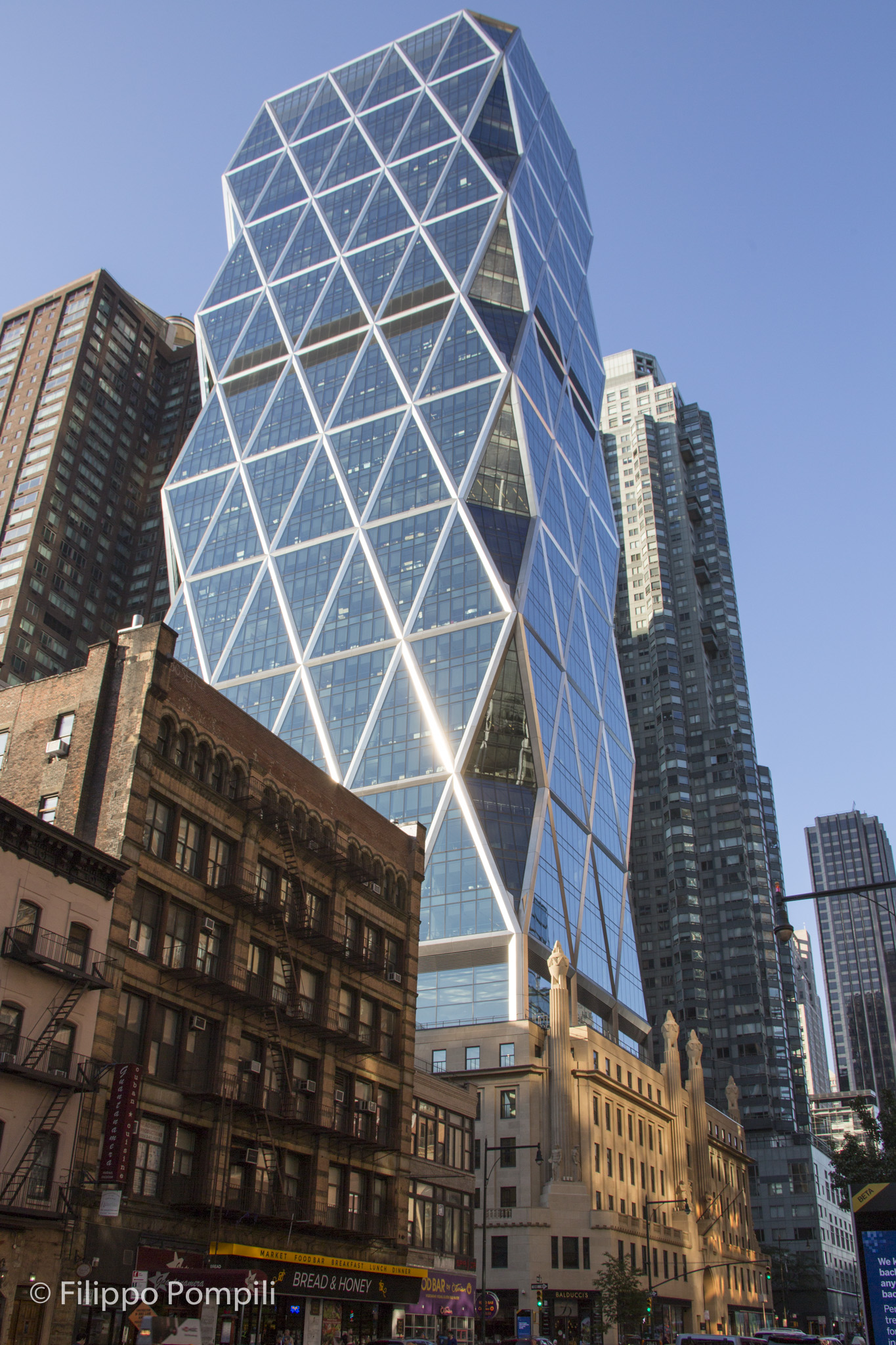 Hearst Tower is the headquarters of Hearst Communications, the publisher of magazines (Car and Driver, Cosmopolitan, Elle, Esquire, Marie Claire, Road & Track and others), newspapers (San Francisco Chronicle, Houston Chronicle, San Antonio Express-News, Seattle Post-Intelligencer and others), television stations (A+E Networks, Cosmopolitan TV, ESPN, Verizon Hearst Media Partners, Hearst Television) and other companies.
The building, inaugurated in 2006, is 182 meters high with 46 floors and was designed by the famous architect Norman Foster.
The exterior walls are designed according to the rare triangular mesh system, also called
diagrid
, which required 10,480 tons of steel, about 20% less than a conventional steel frame. This was achieved, among other things, with an atrium floor with thermal conductive limestone, polyethylene pipes inserted under the floor and filled with circulating water to cool in summer and heat in winter. In addition, the rain collected on the roof is stored in a tank in the basement for use in the cooling system, to irrigate the plants and for Icefall, a three-storey sculpture in the main lobby built with thousands of glass panels along which water flows. This, in addition to its aesthetic function, also has a practical use as it cools and humidifies the air in the atrium.
This skyscraper has two special features. The first is to be built over a six-storey building designed by William Randolph Hearst in 1928 and designed by architect Joseph Urban. The building was built as the basis for a skyscraper that was never built because of the Great Depression. The original idea was then completed 77 years later with Norman Foster's tower. In addition, the Hearst Tower was the first building to receive Gold LEED certification in New York City and later in 2012, the LEED Platinum classification for existing buildings, becoming in fact the first completely green building in the city.
References
Kenneth T. Jackson, Lisa Keller, Nancy Flood
.
The Encyclopedia of New York City: Second Edition
. Yale University Press, 2010. pp. 586-587
Hearst Tower
(Hearst)
Hearst Tower (Manhattan)
(Wikipedia)