Federal Hall National Memorial
26 Wall St. (& Broad St.), NY 10005
Web
www.nps.gov/feha
Contacts
+1 (212) 825-6990
Opening hours
9:00am–5:00pm (Monday - Friday)
Accessibility
Wheelchair accessible. Ramp access is available through the rear entrance at 15 Pine Street.
Subway
2, 3, 4, 5
(Wall St.);
J
, Z (Broad St.)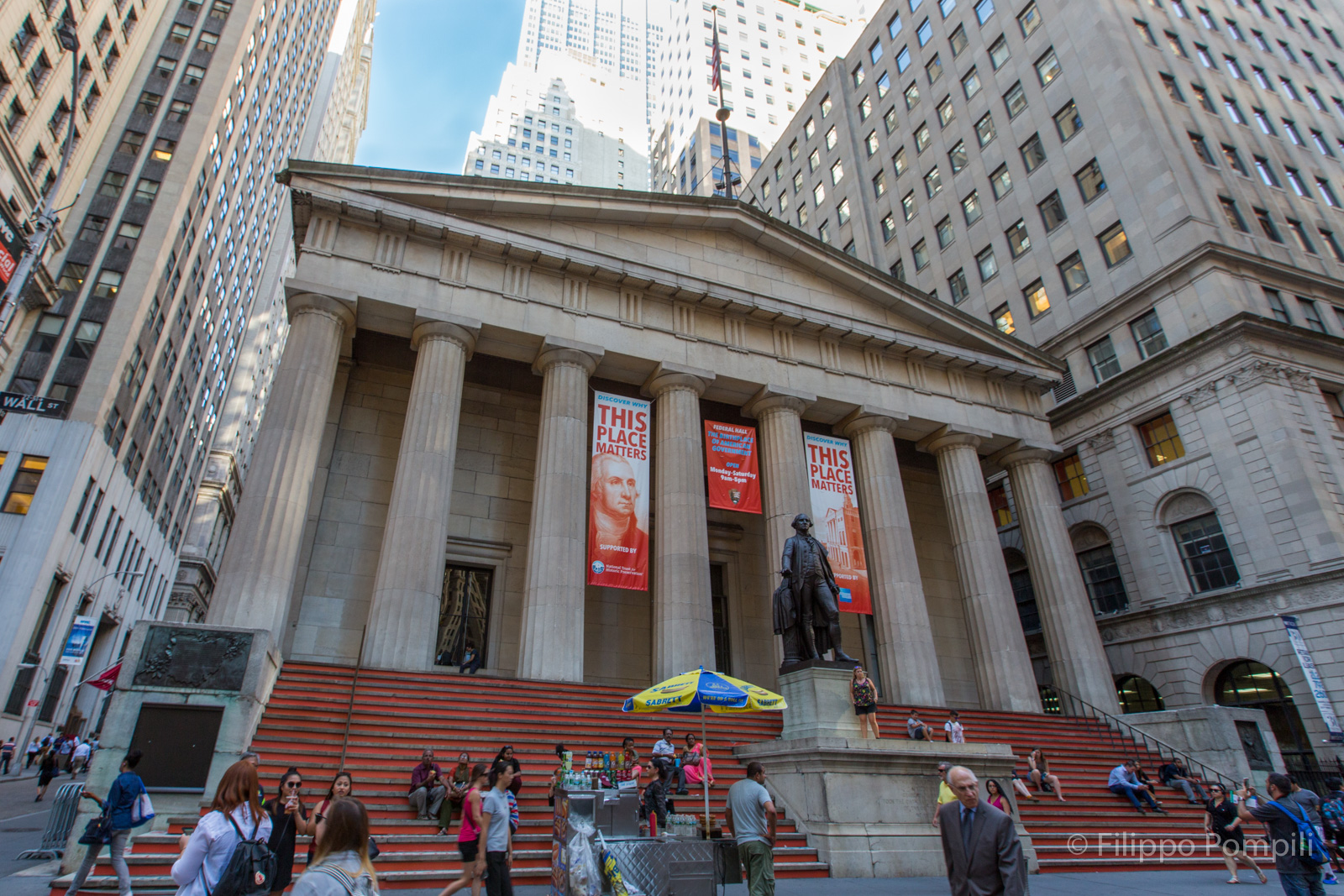 The history of this building begins in 1699 when this place was chosen to build the second town hall of the city. It was later modified on the basis of Pierre L'Enfant's project to adapt it to its new function, that of seat of the first Congress of the United States (1788).
On July 18, 1776, the Declaration of Independence of the United States of America was read here, and on April 30, 1789, George Washington swore as first president, and the bronze statue at the top of the entrance staircase, made by John Quincy Adams Ward (1883), commemorates this event.
In 1790 the capital was transferred to Philadelphia and the construction returned to its initial function as a town hall until 1812, when it was demolished. The current building, built between 1834 and 1842 in the Neo-Greek style and designed by architects Ithiel Town and Alexander Jackson Davis, was used as the headquarters of the United States customs offices until 1862. Later, the Treasury moved some of its offices there. Since 1955 it has been a museum run by the National Park Service.
The white Westchester marble facade has eight 10-meter-high Doric columns supporting a triangular pediment, while the interior has an unusual circular shape inserted into the rectangular structure of the building.
References
Kenneth T. Jackson, Lisa Keller, Nancy Flood
.
The Encyclopedia of New York City: Second Edition
. Yale University Press, 2010. p. 432
Gerard R. Wolfe
.
New York, a Guide to the Metropolis: Walking Tours of Architecture and History
. McGraw-Hill, 1994, 2° ed. p. 58
Federal Hall
(www.federalhall.org)
Federal Hall National Memorial
(National Parks of New York Harbor Conservancy)