Carnegie Hall
881 7th Ave. (7th St.), New York, NY 10019
Web
www.carnegiehall.org
Contacts
+1 (212) 247-7800
Accessibility
Wheelchair accessible..
Subway
N, Q, R,
W (57th St./7th Ave.)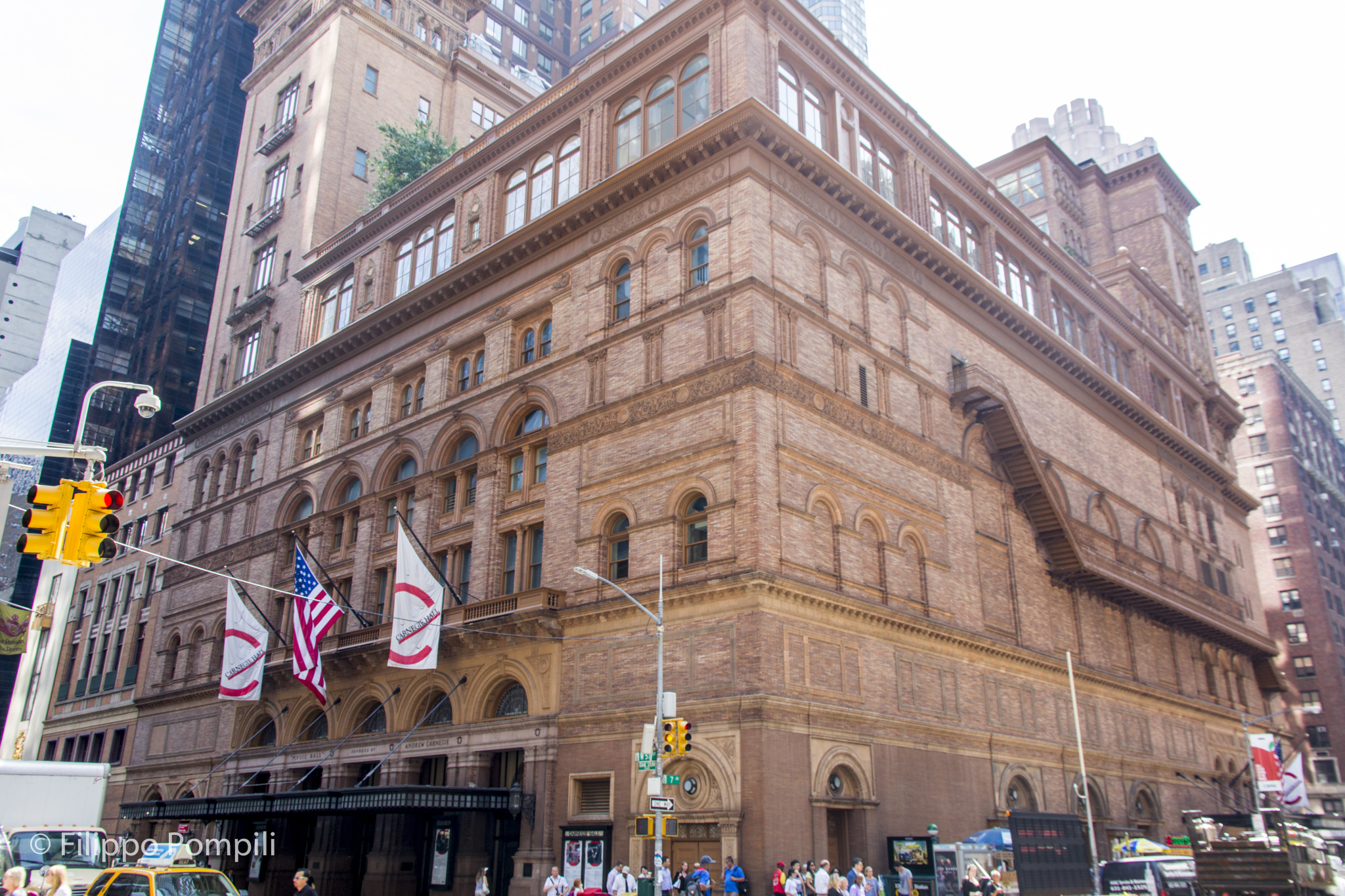 Designed in 1891 by the architect William Burnet Tuthill in the Italian Renaissance style on commission of the philanthropist Andrew Carnegie, it is one of the most prestigious classical and popular music concert halls in the world. It comprises three auditoriums with a total of 3,671 seats.
The
Main Hall
(Stern Auditorium/Perelman Stage), with 2,804 seats on five levels, was named after violinist Isaac Stern in 1997 to acknowledge his efforts to save the hall from demolition in the 1960s. It was home to the New York Philharmonic from 1892 to 1962.
The
Zankel Hall
, once called
Recital Hall
, was dedicated to Judy and Arthur Zankel, with 599 seats on two levels was the first to open to the public in April 1891. In 1898 it was transformed into a cinema, inaugurated as Carnegie Hall Cinema in May 1961 with the film "White Nights" by Luchino Visconti, was then recovered as an auditorium in 1997.
Finally,
Weill Recital Hall
, the smallest with 268 seats, originally called
Chamber Music Hall
, was later named after Sanford I. Weill, former council president and his wife Joan.
On August 11, 1919 Andrew Carnegie died and the property passed to his wife Louise who sold it six years later to the builder Robert E. Simon. In 1960 the city of New York bought Carnegie Hall to save it from demolition and in 1983 a major interior restoration project was started which was completed three years later bringing the hall back to its original splendor.
MAIN EVENTS
1891 - On 5 May 1891 Carnegie Hall opens with a five-day music festival.
1893 - On December 15, the first public rehearsal of Antonín Dvořák's Symphony No. 9 in E minor, also known as the "New World Symphony".
1906 - On January 8 Arthur Rubinstein makes his debut in the United States with the Philadelphia Orchestra.
1908 - On December 8, Gustav Mahler conducts the New York Symphony Orchestra and the Oratorio Society of New York for the American premiere of Symphony No. 2 in C minor.
1917 - On October 27 the 16-year-old violinist Jascha Heifetz makes his debut in the United States.
1918 - On April 30 Enrico Caruso makes his debut at Carnegie Hall.
1925 - George Gershwin performs the world premiere of his Concerto in F major for piano and orchestra.
1936 - 29 April, farewell concert by Arturo Toscanini.
1938 - On January 16 Benny Goodman and his orchestra make their debut at Carnegie Hall.
1943 - Leonard Bernstein makes his debut at the Carnegie Hall on November 14.
1946 - On January 13 Andrés Segovia makes his debut at Carnegie Hall.
1947 - 29 September - Debut at Carnegie Hall for Dizzy Gillespie, Charlie Parker and Ella Fitzgerald.
1949 - On December 10 the first concert broadcast on television.
1959 - Maria Callas makes her debut at Carnegie Hall on January 27.
1961 - November 4 - Debut in the Hall for Bob Dylan.
1964 - February 12 Beatles concert.
1974 - On April 15 Maria Callas performs her farewell concert.
1991 - Carnegie Hall celebrates its 100th birthday.
References
Kenneth T. Jackson, Lisa Keller, Nancy Flood
.
The Encyclopedia of New York City: Second Edition
. Yale University Press, 2010. pp. 204-205
Francis Morrone
.
The Architectural Guidebook to New York City
. Gibbs Smith, 2002. pp. 250-251
History of the Hall
(Carnegie Hall Corporation)
Carnegie Hall
(Wikipedia)
Useful links
About the Building
(Carnegie Hall Corporation)