Brooklyn Bridge
Park Row & Centre St., NY (lato Manhattan)
Adams St. & Tillary St., NY (lato Brooklyn)
Web
Brooklyn Bridge
(New York City Department of Transportation)
Metro (lato Manhattan)
4, 5, 6
(Brooklyn Bridge-City Hall);
J
, Z (Chamber St.)
Metro (lato Brooklyn)
A, C
(High St.)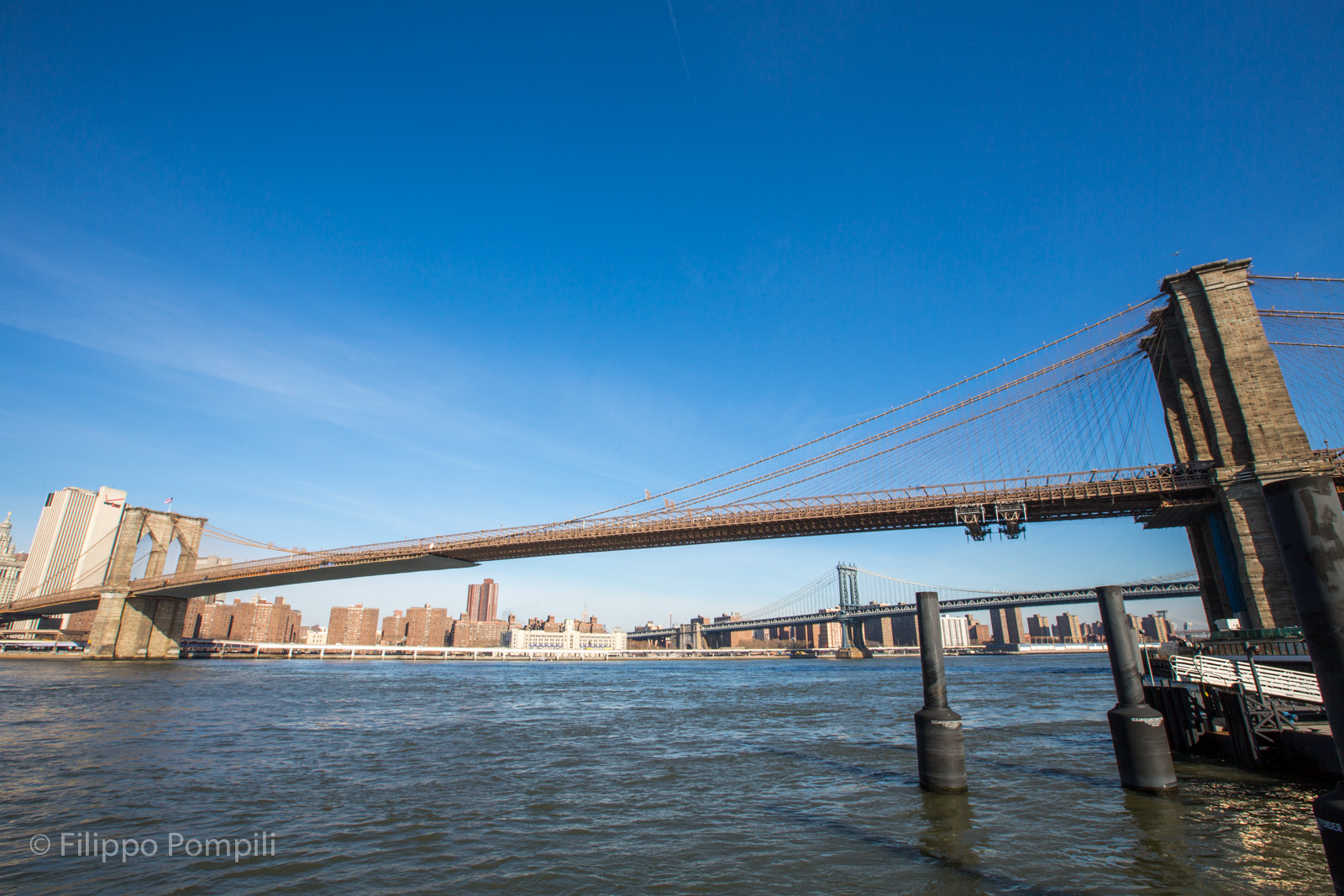 New York's most famous bridge is 90 meters high, 1,053 meters long and has a central span of 486 meters, the longest when it was built. Its granite pillars are neo-Gothic in style and support a mighty structure of steel cables that have a total length of 22 km. Its construction began on January 3, 1870 on the basis of the design of engineer John Augustus Roebling (1806-1869), who died shortly after an accident at the site. It was his son, Washington A. Roebling (1837-1926), who took the project forward, but he too was the victim of an accident in the summer of 1872 that made him disabled for life. Despite this, Roebling continued to follow the work from his room in Columbia Heights not far from the bridge, with the invaluable help of his wife Emily Warren Roebling who kept in touch with the shipyard. At the end, after 13 years of work, on May 24, 1883, the bridge was finished for a total cost of 16 million dollars. This work allowed the first direct connection between Manhattan and Brooklyn and gave a decisive impulse to the annexation of this last district to the city of New York. The bridge initially had pedestrian lanes and for the traffic of the carts, in the following years the tracks for tram and subway were added. In 1940 the latter were eliminated to make room for additional lanes for vehicular traffic.
More than 120,000 vehicles, 4,000 pedestrians and 3,100 cyclists cross the bridge every day.
The best places to see it are Pier 17 in South Street Seaport or Brooklyn Heights as well as crossing it on foot.
References
Kenneth T. Jackson, Lisa Keller, Nancy Flood
.
The Encyclopedia of New York City: Second Edition
. Yale University Press, 2010. pp. 175-176
Gerard R. Wolfe
.
New York, a Guide to the Metropolis: Walking Tours of Architecture and History
. McGraw-Hill, 1994, 2° ed. p. 432
Brooklyn Bridge
(New York City Department of Transportation)
Useful links
Brooklyn Bridge
(history.com)