Astor Place Riot
Astor Pl. (Lafayette St. & 8th St.), New York, New York, 10003
Subway
R
, W (8th St./NYU);
6
(Astor Pl.)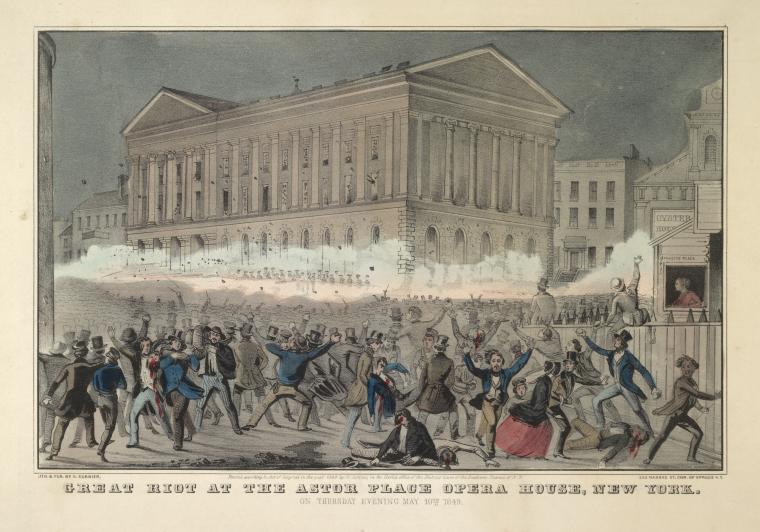 The building on Lafayette between Astor Place and 8th St. is not very important from an architectural point of view but it is remembered for a bloody news story. During the mid-1800s, the Astor Place Opera House was built on the site of the current building. On May 10, 1849, during the performance of Macbeth, the English actor William Charles Macready (1793-1873), who was in bitter controversy with the American actor Edwin Forrest (1806-1872), was harshly contested with the throwing of rotten eggs and vegetables by the supporters of the American actor. The strong anti-British spirit of the period led to a widening of the revolt outside the theater that lasted until the next day. In the end, the police were able to tame the protest of more than ten thousand people, but the very heavy toll was 31 dead and more than 100 wounded.
References
Kenneth T. Jackson, Lisa Keller, Nancy Flood
.
The Encyclopedia of New York City: Second Edition
. Yale University Press, 2010. p. 1105
Henry Moscow
.
New York, a Guide to the Metropolis: Walking Tours of Architecture and History
. McGraw-Hill, 1994, 2° ed. p. 128
Astor Place Riot
(Wikipedia)
Useful links
Account of the terrific and fatal riot at the New-York Astor Place Opera House
(archive.org)
Photo
Great riot at the Astor Place opera house, New York on Thursday evening May 10th, 1849
(The New York Public Library)