South Street Seaport – Pier 17
19 Fulton St. (& East River), NY 10038
Web
www.southstreetseaport.com
Subway
2, 3, 4, 5, A, C, J, Z (Fulton St.)
;
4, 5, 6
(Brooklyn Bridge-City Hall);
J
, Z (Chamber St.);
R
, W (City Hall e Cortlandt St.);
2, 3
(Park Place)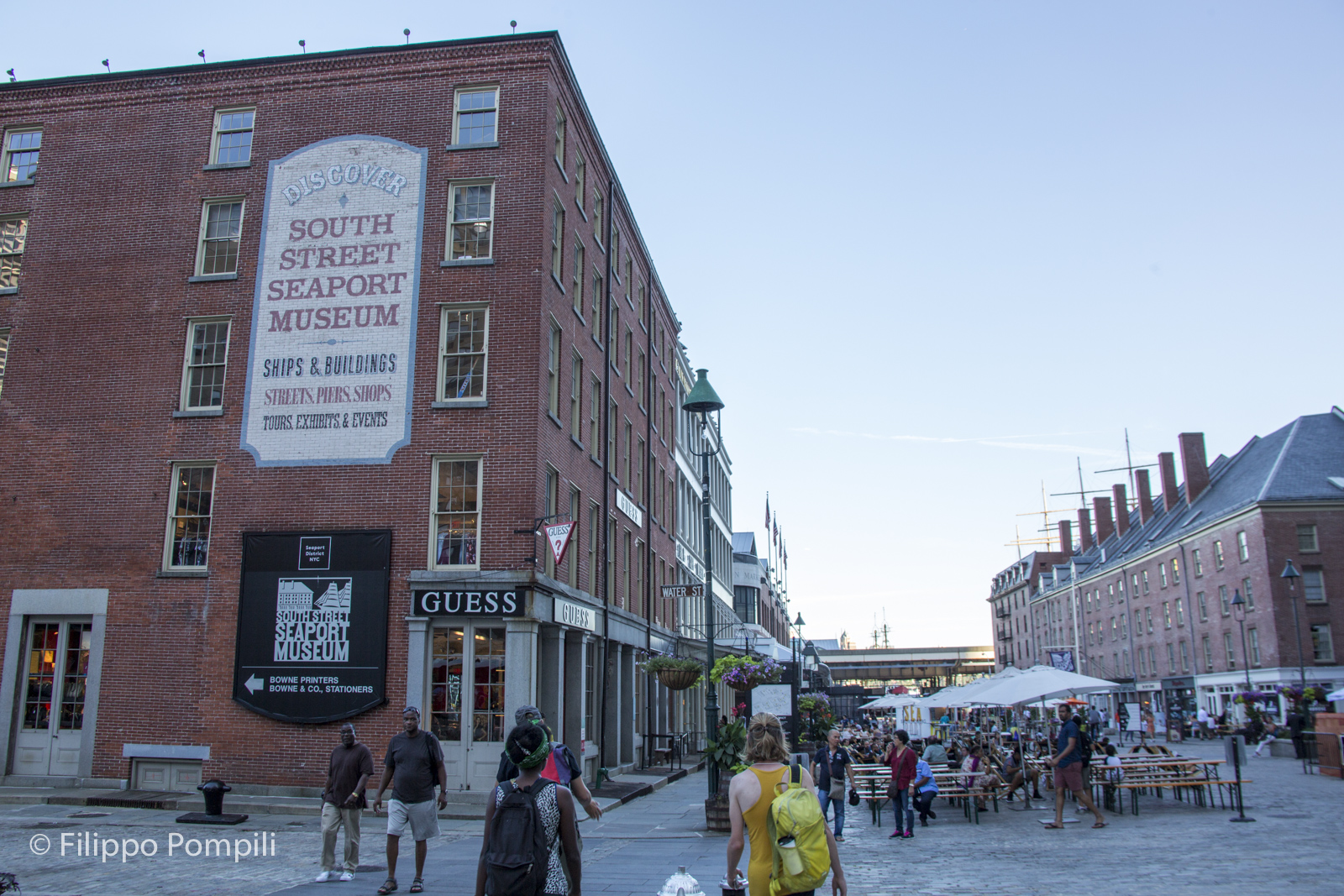 Between 1815 and 1860 this area was a busy port and was appreciated by the captains of the sailing ships for its position sheltered from the prevailing western winds and the ice that flowed on the Hudson River. In addition, the winds on that side of Manhattan favored departures from the moorings. Towards the end of the 19th century the area had a strong decline, partly because of the abandonment of sailing ships as the main means of transport and partly because the water was too low for the new steam ships. In addition, the area no longer had enough space to expand the port. By 1930, large ships were only docked on the west side of the island or at Hoboken in New Jersey.
In 1966 a group of citizens led by Peter and Norma Stanford formed the "Friends of the South Street Maritime Museum" with the aim of recovering the now degraded area. The museum opened four years later and in 1979 work began on the renovation of the area by the Rouse Company, the same company that restored the Boston Quincy Market and Harborplace in Baltimore. In 1983 a first area was opened and two years later it was completed with the opening of the Pier 17 shopping center.
Fulton St. is the main street and takes its name from Robert Fulton, the designer of the first steam ship, who in 1814 inaugurated a ferry service from here to Brooklyn. The section between Water St. and the East River is a pedestrian precinct with a few shops, the Fulton Market, the South Street Seaport Museum and Pier 17. The latter has been completely renovated and from its rooftop you have a wonderful view over the bridges of Manhattan and Brooklyn. From the nearby piers Pier 16 and Pier 11, boats depart to tour the bay, some with dinner and live music.
References
Kenneth T. Jackson, Lisa Keller, Nancy Flood
.
The Encyclopedia of New York City: Second Edition
. Yale University Press, 2010. pp. 1214-1215
Gerard R. Wolfe
.
New York, a Guide to the Metropolis: Walking Tours of Architecture and History
. McGraw-Hill, 1994, 2° ed. pp. 41-43
Francis Morrone
.
The Architectural Guidebook to New York City
. Gibbs Smith, 2002. pp. 23-25
Pier 17 NY
South Street Seaport Museum
South Street Seaport
(Wikipedia)
A digital history of South Street Seaport by Fordham University students