New York State Supreme Court
(New York County Courthouse)
60 Centre St. (Foley Sq.), New York, N.Y. 10007
Web
www.nycourts.gov
Contacts
646-3863600
Subway
4, 5, 6
(Brooklyn Bridge-City Hall);
R
, W (City Hall)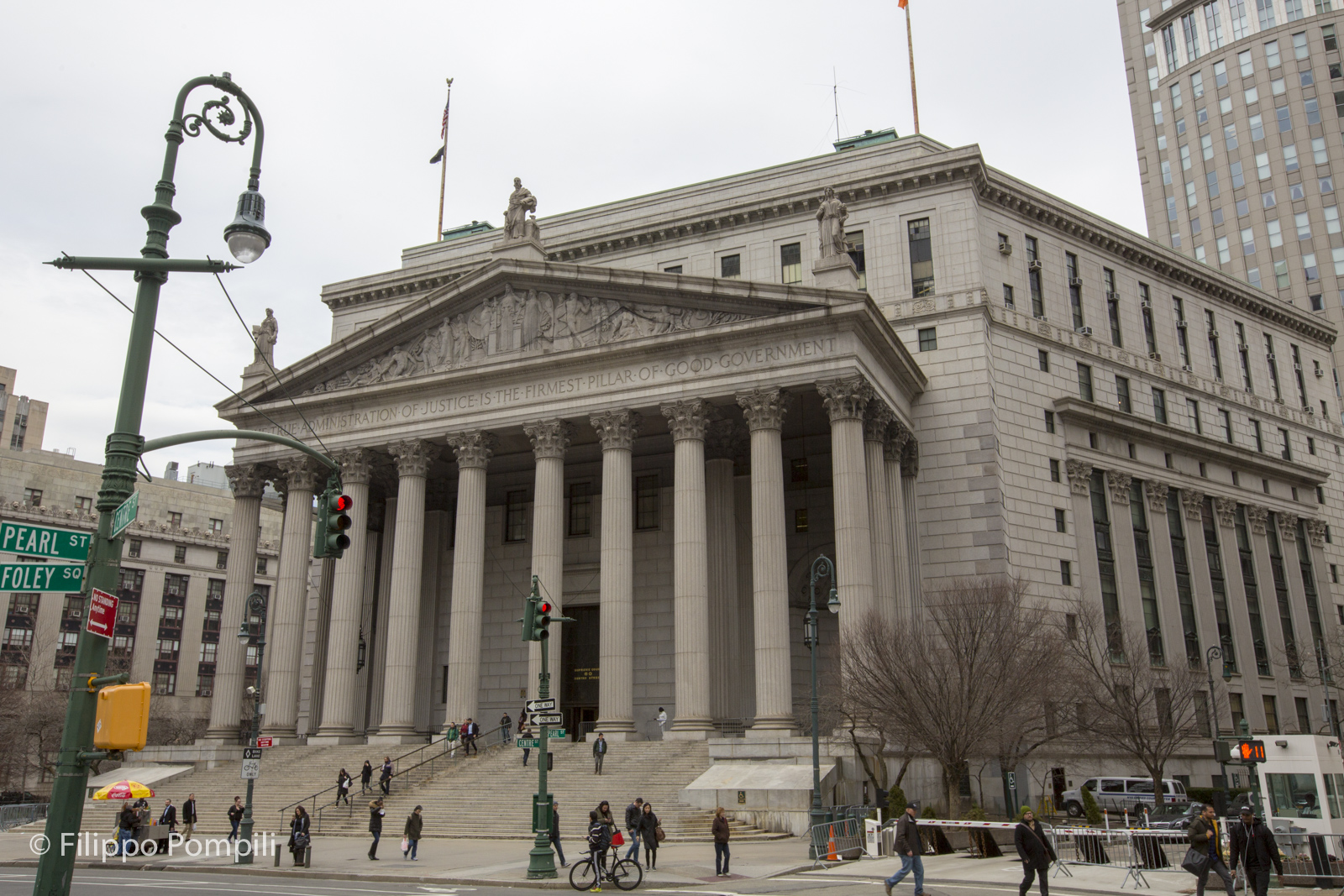 The seat of the New York State Supreme Court was designed by Guy Lowell in 1913. Initially the Boston architect proposed a building with a hexagonal plan but then changed his mind and proposed an imposing circular structure with a diameter of 214 m that was inspired by the Colosseum in Rome. Because of the First World War, work did not begin until 1919 and, following a reduction in the budget, a smaller building with a hexagonal plan and a central circular internal part was restored. The new court was inaugurated on February 17, 1927.
A staircase with 32 steps climbs towards the facade characterized by a large portico 31 m wide with 16 Corinthian columns, 10 fronts that support the pediment and 4 side.
At the top of the pediment there are various figures of granite, the three main ones representing the law, equity, truth and were carved by sculptor Frederick H. Allen. Under them the inscription "The True Administration Of Justice Is The Firmest Pillar Of Good Government" is taken from a letter written in 1789 by George Washington to the Attorney General Edmund Jennings Randolph.
Scenes from many films have been shot here, including "The Godfather" (1972), "Legal Eagles" (1986), "Green Card" (1990), "Regarding Henry" (1991), "It Could Happen to You" (1994), "Laws of Attraction" (2004), "Thick as Thieves" (2009), "Broken City" (2013).
References
A Brief History of the Court
(www.nycourts.gov)
The New York County Courthouse
(www.nycourts.gov)
New York County Courthouse
(Wikipedia)
New York Supreme Court
(Wikipedia)